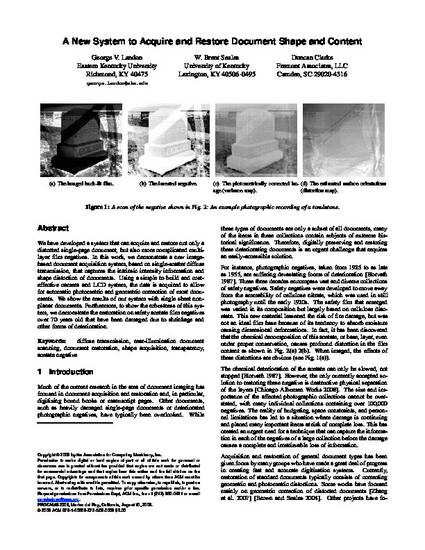 Article
A New System to Acquire and Restore Document Shape and Content
Proceedings of the 5th ACM/IEEE International Workshop on Projector Camera Systems
Document Type
Conference Proceeding
Publication Date
1-1-2008
DOI
10.1145/1394622.1394638
Abstract
We have developed a system that can acquire and restore not only a distorted single-page document, but also more complicated multilayer film negatives. In this work, we demonstrate a new imagebased document acquisition system, based on single-scatter diffuse transmission, that captures the intrinsic intensity information and shape distortion of documents. Using a simple to build and costeffective camera and LCD system, the data is acquired to allow for automatic photometric and geometric correction of most documents. We show the results of our system with single sheet nonplanar documents. Furthermore, to show the robustness of this system, we demonstrate the restoration on safety acetate film negatives over 70 years old that have been damaged due to shrinkage and other forms of deterioration.
Keywords
Diffuse transmission,
rear-illumination document scanning,
document restoration,
shape acquisition,
transparency,
acetate negative
Creative Commons License
Creative Commons Attribution-Noncommercial-No Derivative Works 4.0
Citation Information
George V. Landon, W. Brent Seales and Duncan Clarke. "A New System to Acquire and Restore Document Shape and Content"
Proceedings of the 5th ACM/IEEE International Workshop on Projector Camera Systems
(2008)
Available at: http://works.bepress.com/george-landon/10/