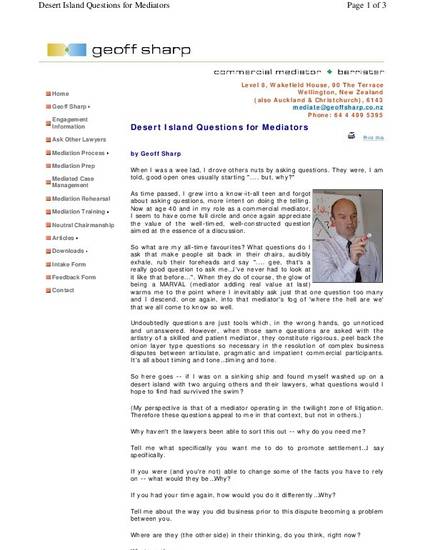 Article
Desert Island Questions for Mediators
Unpublished, June (2009)
Abstract
When I was a wee lad, I drove others nuts by asking questions. They were, I am told, good open ones usually starting ".... but, why?"
As time passed, I grew into a know-it-all teen and forgot about asking questions, more intent on doing the telling. Now at age 40 and in my role as a commercial mediator, I seem to have come full circle and once again appreciate the value of the well-timed, well-constructed question aimed at the essence of a discussion.
So what are my all-time favourites? What questions do I ask that make people sit back in their chairs, audibly exhale, rub their foreheads and say ".... gee, that's a really good question to ask me…I've never had to look at it like that before...".
Publication Date
Fall June 18, 2009
Citation Information
Geoff Sharp. "Desert Island Questions for Mediators"
Unpublished, June
(2009)
Available at: http://works.bepress.com/geoffsharp/5/