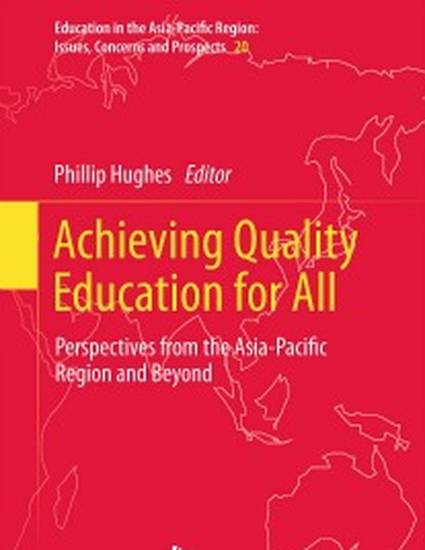 Contribution to Book
The power of belief.
Achieving quality education for all : education in the Asia-Pacific region : issues, concerns and prospects (2013)
Abstract
This essay has been written to honour Professor Phillip Hughes, an extraordinary Australian and one. of the most outstanding educational thinkers this country has produced. Through his unswerving belief in the capacity of education not only to transform individual lives, but also to create a more just and harmonious society, Phil has challenged all of us to set and pursue higher expectations. These include higher expectations of the school curriculum to develop capacities for reflection, curiosity and creative thinking as well as personal values; higher expectations for the equitable distribution of educational opportunities; and higher expectations of education's contribution to ameliorating global tensions and challenges. One of Phil's early teachers, Alison Smith, encouraged him to set high expectations by asking, `Is it your best?' Throughout his career Phil has set exceptionally high expectations of himself while promoting self-belief in others. In his own words, `for all of us as teachers, the final victory is to retain our faith in people, in their capacity to grow' Maclean (2007). Success in most fields of endeavour depends on an ability to visualise success. It has long been known that elite athletes mentally rehearse each performance prior to its execution. Advances in neuroscience show why this may be so important: the neurological processes involved in visualising a performance are almost identical to those involved in the performance itself. Indeed, simply watching somebody else perform activates `mirror' neurons in the observer paralleling neuronal activity in the performer Rizzolatti and Fabbri-Destro (2010). The ability to visualise success and an accompanying belief that success is possible appear to be prerequisites for most forms of human achievement.
Keywords
Success,
High achievement,
Expectation,
Reporting (Student achievement),
Parent attitudes,
Teacher expectations of students,
Self efficacy,
Primary secondary education
Series
(Education in the Asia-Pacific region ; issues, concerns and prospects ; v. 20)
ISBN
9789400752931 (pbk) 9789400752948 (ebk)
DOI
10.1007/978-94-007-5294-8_1
Citation Information
Masters, G. N. (2013). The Power of Belief. In P. Hughes (Ed.), Achieving Quality Education for All: Perspectives from the Asia-Pacific Region and Beyond (pp. 3-8). Dordrecht: Springer Netherlands. doi:10.1007/978-94-007-5294-8_1