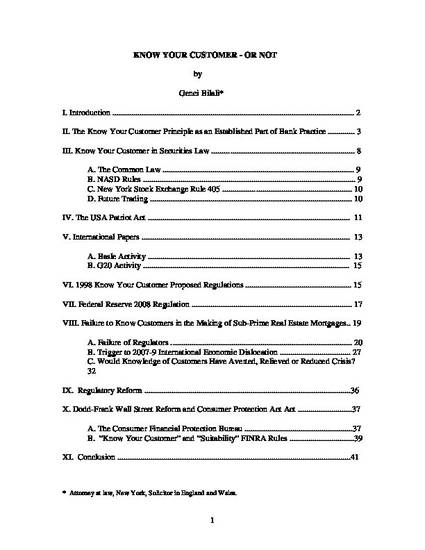 Unpublished Paper
Know Your Customer - Or Not
ExpressO (2011)
Abstract
"Know Your Customer" (KYC) is the due diligence and bank regulation that banks and other financial institutions perform in order to identify their clients and ascertain relevant information pertinent to doing financial business with them. The KYC policies are largely applied from banks and other financial institutions not only to prevent identity theft fraud, money laundering and terrorist financing but also to regulate the risk in business of lending and investment banking activities between banks and their customers.
Commercial and investment banks failed to comply and implement fully the KYC policies in lending monies and selling financial products to their customers, which affected in the economic and financial crisis of 2008 - 2009. As a result, bank regulators have undertaken a sweeping reform in addressing lessons learnt from the financial crisis in order to consolidate the KYC policies in order to become more efficient in implementation. Key to the success of the KYC policies and regulations will depend on the close supervision level of bank and financial authorities, ensuring full and adequate enforcement of these rules.
In this paper, I discuss a brief history of the KYC, its development and evolution throughout time, efforts made by the banking authorities in order to shape and improve implementation of the KYC rules in commercial and investment banking activities, culminating with the enactment of the Dodd-Frank Act. I conclude that the KYC is an evolving concept and in order to make its implementation effective towards banks and other financial institutions, regulators should supervise banks of proper compliance. The role of banks to ensure adequate education of their staff in order to effectively comply with the KYC rules and recommendations is significant in a successful implementation of the KYC provisions in the banking system.
Notwithstanding the fact that there is no clear evidence to prove whether or not a full compliance from banks and other financial institutions of KYC principle may have averted, relieved or even reduced the financial crisis of 2008 - 2009, it is a clear conclusion that compliance of such principle from the banks and other financial institutions may have had a positive effect to the severity of the crisis.
Keywords
banks,
know your customer,
KYC,
consumer protection,
Federal Reserve,
Dodd-Frank,
financial institutions
Publication Date
Spring February, 2011
Citation Information
Genci Bilali. "Know Your Customer - Or Not"
ExpressO
(2011)
Available at: http://works.bepress.com/genci_bilali/1/