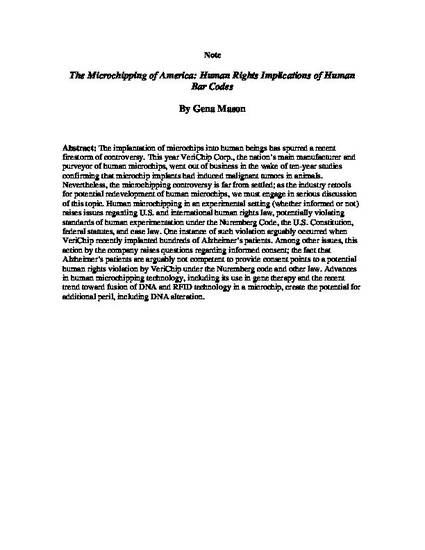 Unpublished Paper
The Microchipping of America: Human Rights Implications of Human Bar Codes
ExpressO (2009)
Abstract
The implantation of microchips into human beings has spurred a recent firestorm of controversy. This year VeriChip Corp., the nation's main manufacturer and purveyor of human microchips, went out of business in the wake of ten-year studies confirming that microchip implants had induced malignant tumors in animals. Nevertheless, the microchipping controversy is far from settled; as the industry retools for potential redevelopment of human microchips, we must engage in serious discussion of this topic. Human microchipping in an experimental setting (whether informed or not) raises issues regarding U.S. and international human rights law, potentially violating standards of human experimentation under the Nuremberg Code, the U.S. Constitution, federal statutes, and case law. One instance of such violation arguably occurred when VeriChip recently implanted hundreds of Alzheimer's patients. Among other issues, this action by the company raises questions regarding informed consent; the fact that Alzheimer's patients are arguably not competent to provide consent points to a potential human rights violation by VeriChip under the Nuremberg code and other law. Advances in human microchipping technology, including its use in gene therapy and the recent trend toward fusion of DNA and RFID technology in a microchip, create the potential for additional peril, including DNA alteration.
Publication Date
July 23, 2009
Citation Information
Gena V Mason. "The Microchipping of America: Human Rights Implications of Human Bar Codes"
ExpressO
(2009)
Available at: http://works.bepress.com/gena_mason/1/