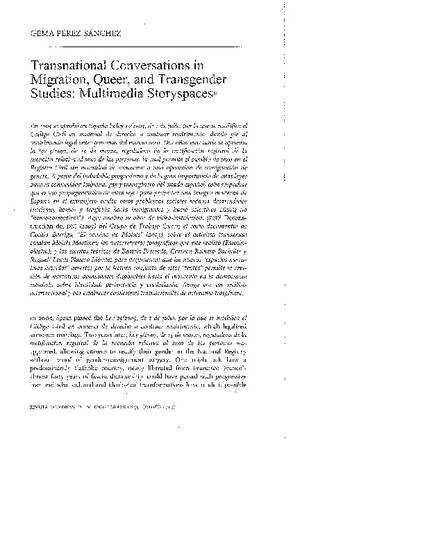 Article
"Transnational Conversations in Migration, Queer, and Transgender Studies: Multimedia Storyspaces."
Revista Canadiense de Estudios Hispánicos (2010)
Abstract
En 2005 se aprobó en España la Ley 13/2005, de 1 de Julio, por la que se modifica el Código Civil en material de derecho a contraer matrimonio, dando pie al matrimonio legal entre personas del mismo sexo. Dos años más tarde se aprueba la Ley 3/2007, de 15 de marzo, reguladora de la rectificación registral de la mención relativa al sexo de las personas, la cual permite el cambio de sexo en el registro civil sin necesidad de someterse a una operación de reasignación de género. A pesar del indudable progresismo y de la gran importancia de estas leyes para la comunidad lesbiana, gay y transgénero del Estado español, cabe sospechar que el uso propagandístico de estas leyes para proyectar una imagen moderna de España en el extranjero oculta otros problemas sociales todavía desatendidos (racismo, homo- y transfobia hacia inmigrantes y hacia colectivos LGTB no "homonormativos"). Aquí analizo la obra de video-instalación, ¿DNI? Deconstrucción del DNI (2005) del Grupo de Trabajo Queer; el corto documental de Cecilia Barriga, El viaje de Moisès (2003), sobre el activista transexual catalán Moisès Martínez; los autorretratos fotográficos que éste realizó (Falosinplastia); y los escritos teóricos de Beatriz Preciado, Carmen Romero Bachiller y Raquel/Lucas Platero Méndez para argumentar que los nuevos "espacios narrativos híbridos" abiertos por la lectura conjunta de estos "textos" permite la revisión de narrativas dominantes disponibles hasta el momento en la democracia española sobre identidad, pertenencia y ciudadanía. Abogo por un análisis interseccional y por establecer coaliciones transnacionales de activismo trangénero.
Keywords
lesbian and gay studies,
transsexuality,
transnationalism,
immigration,
photography,
documentary
Citation Information
Gema Pérez-Sánchez. ""Transnational Conversations in Migration, Queer, and Transgender Studies: Multimedia Storyspaces.""
Revista Canadiense de Estudios Hispánicos
Vol. 35 Iss. 1 (2010)
Available at: http://works.bepress.com/gemaperezsanchez/2/