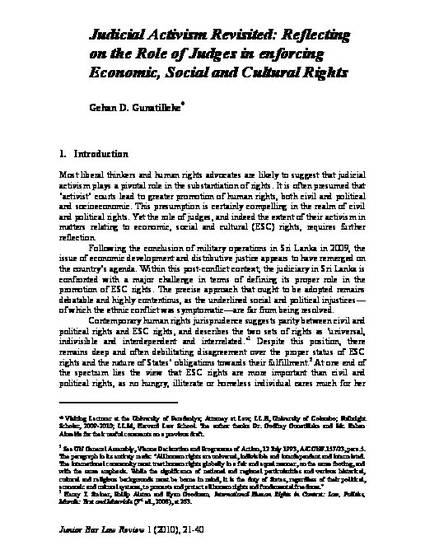 Article
Junior Bar Law Review 1 (2010), 21-40 Judicial Activism Revisited: Reflecting on the Role of Judges in enforcing Economic, Social and Cultural Rights
Junior Bar Law Review (2010)
Abstract
Following the conclusion of military operations in Sri Lanka in 2009, the issue of economic development and distributive justice appears to have remerged on the country's agenda. Within this post-conflict context, the judiciary in Sri Lanka is confronted with a major challenge in terms of defining its proper role in the promotion of Economic Social and Cultural ("ESC") rights. The precise extent to which judges should be 'activist' in promoting these rights should be contrasted with the level of activism required of judges in the sphere of civil and political rights. Advocating ESC rights in Sri Lanka simply cannot be meaningful and would arguably be vacuous unless issues of disenfranchisement, political marginalization and media freedom are appropriately addressed. Hence the judiciary has a critical role to play in safeguarding these civil and political rights, not only for their intrinsic value, but also because the promotion of these rights would eventually lead to greater distributive justice. When dealing with the enforcement of ESC rights, however, concerns relating to queue jumping and trade-offs ought to enter into the judicial consciousness. Policymakers are constantly called upon to avoid queue jumping and to determine trade-offs when dealing with socioeconomic issues. A distinction should be drawn between complex trade-offs relating to resource allocation and fundamental trade-offs relating to the state's minimum core obligations in respect of ESC rights. Judges should adopt a deferential approach when dealing with complex trade-offs and a vigilant approach when dealing with fundamental trade-offs. This formula for determining the level of judicial intervention is essentially premised on the view that the political process is better suited for determining questions of resource allocation. Yet judges have an important role to play in ensuring the integrity of this political process. Hence, judges must adopt an activist approach when dealing with the civil and political rights that would ultimately ensure such integrity. Furthermore, in the event that the political process results in the making of discriminatory or unreasonable trade-offs, judges should again adopt a more activist approach, thereby intervening in the political process in order to vindicate the ESC rights concerned. Moreover, it is crucial that the courts in Sri Lanka appropriately confront the complexities involved in the enforcement of ESC rights and approach this issue on a case-by-case basis. It is through this interface between the political process and the judiciary that the interests of socioeconomic development and distributive justice are best served.
Keywords
socioeconomic rights,
judicial activism
Publication Date
Winter December, 2010
Citation Information
Gehan D Gunatilleke. "Junior Bar Law Review 1 (2010), 21-40 Judicial Activism Revisited: Reflecting on the Role of Judges in enforcing Economic, Social and Cultural Rights"
Junior Bar Law Review
Vol. 1 Iss. 1 (2010)
Available at: http://works.bepress.com/gehan_gunatilleke/3/