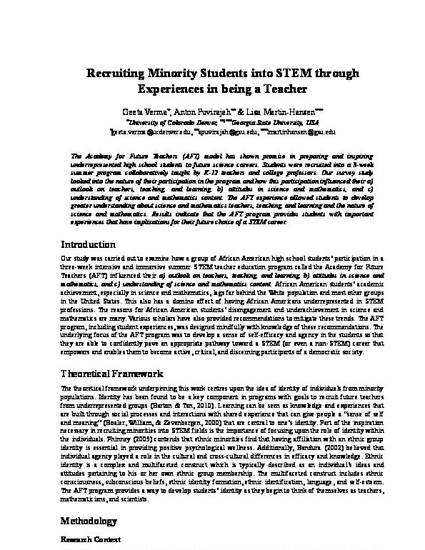 Article
Recruiting Minority Students into STEM through Experiences in being a Teacher
STEM Faculty Publications
Document Type
Conference Proceeding
Publication Date
1-1-2013
Abstract
The Academy for Future Teachers (AFT) model has shown promise in preparing and inspiring underrepresented high school students to future science careers. Students were recruited into a 3-week summer program collaboratively taught by K-12 teachers and college professors. Our survey study looked into the nature of their participation in the program and how this participation influenced their a) outlook on teachers, teaching, and learning, b) attitudes in science and mathematics, and c) understanding of science and mathematics content. The AFT experience allowed students to develop greater understanding about science and mathematics teachers, teaching, and learning and the nature of science and mathematics. Results indicate that the AFT program provides students with important experiences that have implications for their future choice of a STEM career.
Citation Information
Verma, G., Puvirajah, A., & Martin-Hansen, L. (2013). Recruiting Minority Students into STEM through Experiences in being a Teacher. In Nagarjuna G., Jamakhandi, A. & Sam, E.M., (Eds.). Proceedings of epiSTEME 5-- International Conference to review research on Science, Technology and Mathematics Education (pp. 343-350), Mumbai, India, Cinnamon Teal Publishing.