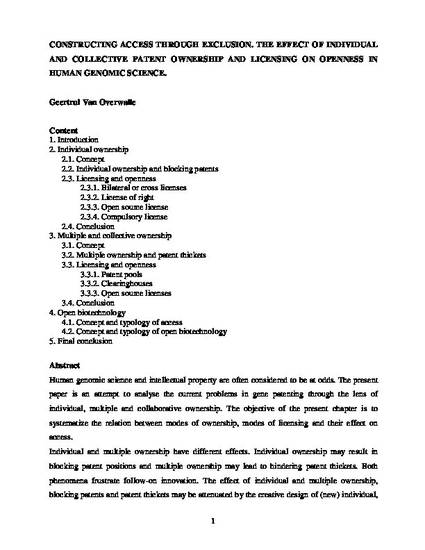 Unpublished Paper
CONSTRUCTING ACCESS THROUGH EXCLUSION. THE EFFECT OF INDIVIDUAL AND COLLECTIVE PATENT OWNERSHIP AND LICENSING ON OPENNESS IN HUMAN GENOMIC SCIENCE
ExpressO (2012)
Abstract
Human genomic science and intellectual property are often considered to be at odds. The present paper is an attempt to analyse the current problems in gene patenting through the lens of individual, multiple and collaborative ownership. The objective of the present chapter is to systematize the relation between modes of ownership, modes of licensing and their effect on access.
Individual and multiple ownership have different effects. Individual ownership may result in blocking patent positions and multiple ownership may lead to hindering patent thickets. Both phenomena frustrate follow-on innovation. The effect of individual and multiple ownership, blocking patents and patent thickets may be attenuated by the creative design of (new) individual, collaborative and collective (voluntary and compulsory) licensing models, leading to semi-open or totally open biotechnology infrastructures.
Keywords
patent law,
proprietary vs. non-proprietary regimes,
open biotechnology,
open patents,
Myriad Genetics case,
blocking patents,
patent thickets,
tragedy anti-commons,
liability regime,
license of right,
patent pools,
clearinghouses
Publication Date
February 27, 2012
Citation Information
Geertrui R.L. Van Overwalle. "CONSTRUCTING ACCESS THROUGH EXCLUSION. THE EFFECT OF INDIVIDUAL AND COLLECTIVE PATENT OWNERSHIP AND LICENSING ON OPENNESS IN HUMAN GENOMIC SCIENCE"
ExpressO
(2012)
Available at: http://works.bepress.com/geertrui_vanoverwalle/1/