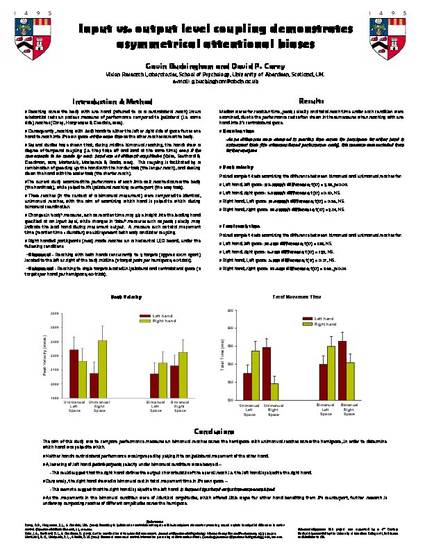 Presentation
Input vs. Output Level Coupling Demonstrates Asymmetrical Attentional Biases
British Psychology Society Cognitive Section (BPS) Meeting (2007)
Abstract
The current study examined the performance of each limb as it reached across the body (the hard task), while yoked to it's ipsilateral reaching counterpart (the easy task).
Keywords
Bimanual coordination,
Attentional bias,
Laterality,
Handedness,
Intention
Citation Information
Gavin Buckingham and David P. Carey. "Input vs. Output Level Coupling Demonstrates Asymmetrical Attentional Biases"
British Psychology Society Cognitive Section (BPS) Meeting
(2007)
Available at: http://works.bepress.com/gavinbuckingham/20/