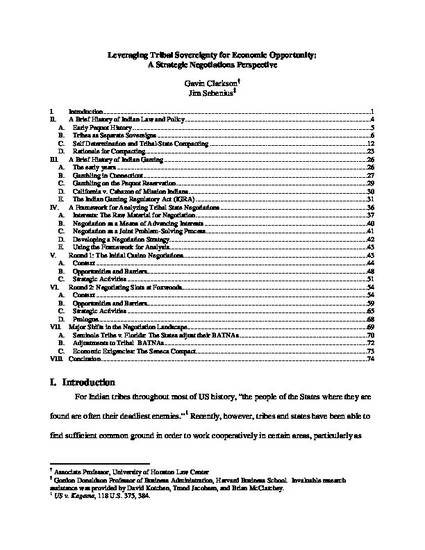 Unpublished Paper
Leveraging Tribal Sovereignty for Economic Opportunity: A Strategic Negotiations Perspective
ExpressO (2011)
Abstract
Although Indian tribes and the individual states were often bitter enemies throughout much of the history of the United States, recently tribes and states have been able to find sufficient common ground in order to work cooperatively in certain areas. In some instances, Congress has mandated such cooperation, and at other times the cooperative activity has arisen between the parties themselves as a matter of pragmatism. In either instance, tribes and states often find themselves at the bargaining table. The negotiation dynamics of tribal-state compacting, however, can be incredibly challenging. The parties may have experienced centuries of animosity. The "shadow of the law" relevant to the substance of the negotiation may be ill-defined or easily misunderstood (as is often the case with Indian law). Finally, significant cultural differences may obscure common ground that could facilitate a successful negotiation. While the range of tribal-state compacts includes such areas as law enforcement, child protection, environmental management, hunting and fishing, and taxation, Indian gaming has probably generated the greatest amount of activity in recent years. In particular, the agreement that led to the immense success of the Pequot gaming operation and the substantial revenue shared with the state of Connecticut has become almost mythical in nature, with states often misunderstanding the lessons of the Foxwoods story. The true story is one of strategic negotiation and the leveraging of tribal sovereignty into economic opportunity. In addition to presenting a case study of the actual negotiations, this article also discusses the sovereign nature of tribal governments and reviews the history of tribal sovereignty, including an examination of tribal-state compacting outside of the gaming context. After examining the origins of Indian gaming and focusing on the development of the legal framework which governs tribal gaming activities and necessitates the negotiation of tribal-state gaming compacts, this article presents a framework for structuring and analyzing negotiations in any context. The article then applies that framework in the retelling the Foxwoods story.
Keywords
Strategic Negotiations,
Indian Tribes
Publication Date
March 2, 2011
Citation Information
Gavin Clarkson. "Leveraging Tribal Sovereignty for Economic Opportunity: A Strategic Negotiations Perspective"
ExpressO
(2011)
Available at: http://works.bepress.com/gavin_clarkson/3/