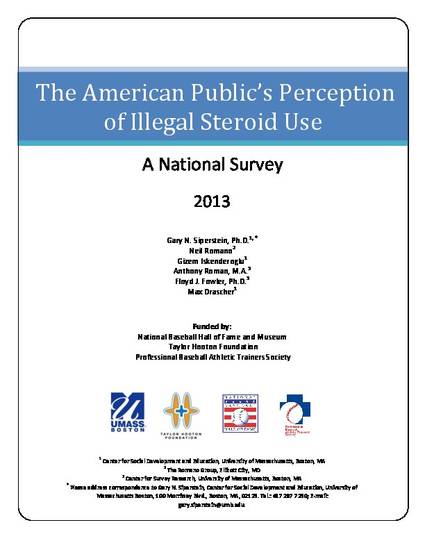 Article
The American Public's Perception of Illegal Steroid Use: A National Survey, 2013
Center for Social Development and Education Publications
Document Type
Research Report
Publication Date
1-1-2013
Abstract
Through the surge of news about doping scandals in the media, it is expected that the public is aware of the magnitude of the problem among professional athletes; however, it is uncertain whether the public is aware that the problem often starts when athletes are younger. To this end, the National Baseball Hall of Fame and Museum, the Taylor Hooton Foundation, and the Professional Baseball Athletic Trainers Society partnered with the Center for Social Development and Education and the Center for Survey Research at the University of Massachusetts Boston to conduct the most comprehensive national opinion survey to date to assess the public's knowledge, perceptions, and beliefs about the use of performance enhancing drugs among adolescents. It is hoped that the findings obtained through this survey will provide a foundation for a national dialogue about this problem.
Community Engaged/Serving
Yes, this is community-engaged.
Citation Information
Gary Siperstein, Neil Romano, Gizem Iskenderoglu, Anthony Roman, et al.. "The American Public's Perception of Illegal Steroid Use: A National Survey, 2013" (2013)
Available at: http://works.bepress.com/gary_siperstein/5/