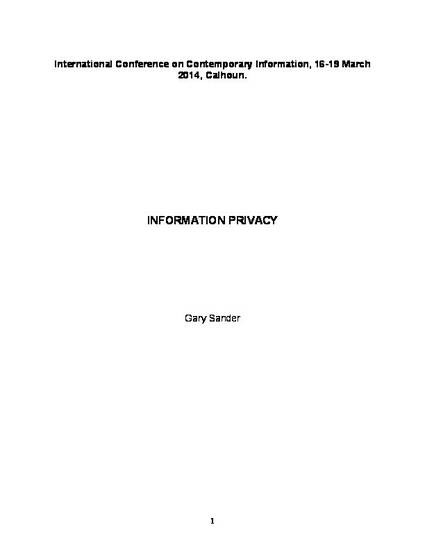 Presentation
Information Privacy
International Conference on Contemporary Information (2014)
Abstract
Databases of information about individuals have similar architectural qualities as in the neighborhood in which our physical homes are situated in. Within our personal homes, there are rooms and areas in which are more private and accessible. We can store away and access information which is embedded in physical objects. But as these boundaries between the physical and the virtual become blurry, the ideas of privacy need to be re-thought carefully. When information is stored virtually there are pros and cons to this – how does information get represented in context of the situation than as a single entity that could be misinterpreted? Information in databases of an individual can easily be retrieved but at the same time, information can be hidden away; how one sets these boundaries of access is important. Context is a key element when setting these boundaries – these boundaries that reflect the public and the private expression of an individual change depending on the context. These boundaries also reflect the mutual interplay of communication that occurs in a context. A concern is that when a single entity of information is picked at, how does other related information that is of public and private expression, pulled out to depict what it is really about? This is a challenge because vast amount of information can be stored in databases and can be lost conceptually in our memories.
Keywords
International Information,
Collaboration,
Privacy
Publication Date
Spring March 16, 2014
Citation Information
Gary S Sander. "Information Privacy"
International Conference on Contemporary Information
(2014)
Available at: http://works.bepress.com/gary_sander/1/