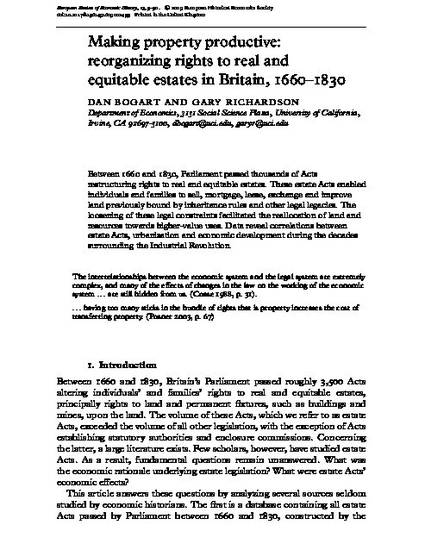 Article
Making Property Productive: Reorganizing Rights to Real and Equitable Estates in Britain, 1660 to 1830
European Review of Economic History (2009)
Abstract
Between 1660 and 1830, Parliament passed thousands of Acts restructuring rights to real and equitable estates. These estate Acts enabled individuals and families to sell, mortgage, lease, exchange and improve land previously bound by inheritance rules and other legal legacies. The loosening of these legal constraints facilitated the reallocation of land and resources towards higher-value uses. Data reveal correlations between estate Acts, urbanization and economic development during the decades surrounding the Industrial Revolution.
Publication Date
January, 2009
Citation Information
Gary Richardson. "Making Property Productive: Reorganizing Rights to Real and Equitable Estates in Britain, 1660 to 1830"
European Review of Economic History
Vol. 13 (2009)
Available at: http://works.bepress.com/gary_richardson/16/