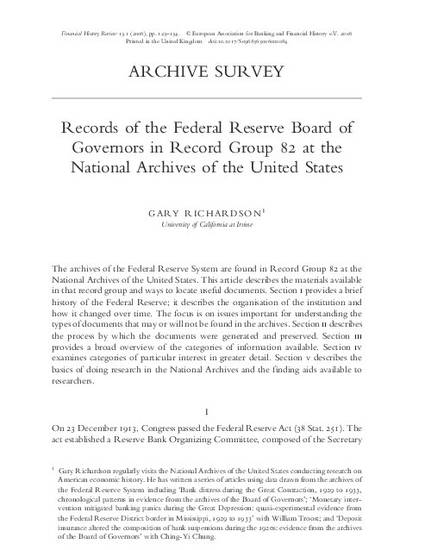 Article
The Records of the Federal Reserve Board of Governors in the National Archives of the United States
Financial History Review (2006)
Abstract
The archives of the Federal Reserve System are found in Record Group 82 at the National Archives of the United States. This article describes the materials available in that record group and ways to locate useful documents. Section i provides a brief history of the Federal Reserve; it describes the organization of the institution and how it changed over time. The focus is on issues important for understanding the types of documents that may or will not be found in the archives. Section ii describes the process by which the documents were generated and preserved. Section iii provides a broad overview of the categories of information available. Section iv examines categories of particular interest in greater detail. Section v describes the basics of doing research in the National Archives and the finding aids available to researchers.
Keywords
Federal Reserve,
National Archives,
Record Group 82,
Monetary History,
Great Depression
Publication Date
April, 2006
Citation Information
Gary Richardson. "The Records of the Federal Reserve Board of Governors in the National Archives of the United States"
Financial History Review
Vol. 13 Iss. 1 (2006)
Available at: http://works.bepress.com/gary_richardson/11/