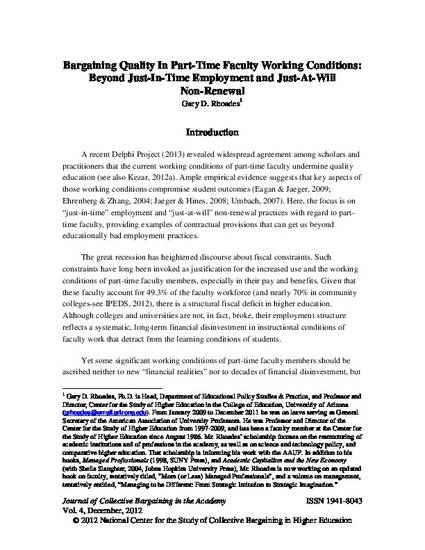 Article
Bargaining Quality in Part-time Faculty Working Conditions: Beyond Just-In-Time Employment and Just-At-Will Non-Renewal
Journal of Collective Bargaining in the Academy
Abstract
Two aspects of part-time faculty members' working conditions that are problematic for educational quality are examined in this article—"just-in-time" employment and "just-at-will" non-renewal. With an eye to enhancing student learning conditions, the article explores feasible strategies that are found in the collective bargaining agreements of units for part-time only bargaining units. Collective bargaining provides a reasonable framework for rethinking, redefining, and renegotiating the working conditions of faculty working in part-time positions to improve student learning outcomes and educational quality.
Citation Information
Gary Rhoades. "Bargaining Quality in Part-time Faculty Working Conditions: Beyond Just-In-Time Employment and Just-At-Will Non-Renewal"
Available at: http://works.bepress.com/gary_rhoades/1/