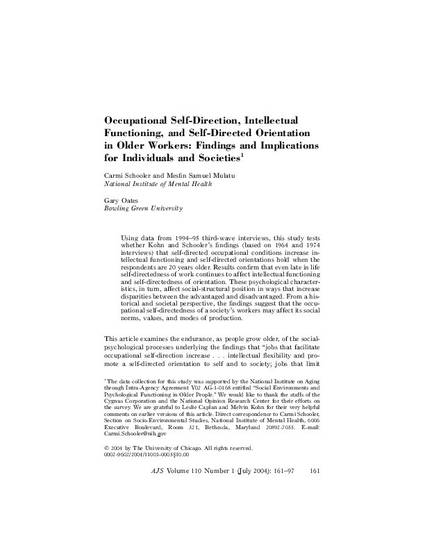 Article
Occupational Self-Direction, Intellectual Functioning, and Self-Directed Orientation in Older Workers: Findings and Implications for Individuals and Societies
American Journal of Sociology
Abstract
Using data from 1994-95 third-wave interviews, this study tests whether Kohn and Schooler's findings ( based on 1964 and 1974 interviews) that self-directed occupational conditions increase intellectual functioning and self-directed orientations hold when the respondents are 20 years older. Results confirm that even late in life self-directedness of work continues to affect intellectual functioning and self-directedness of orientation. These psychological characteristics, in turn, affect social-structural position in ways that increase disparities between the advantaged and disadvantaged. From a historical and societal perspective, the findings suggest that the occupational self-directedness of a society's workers may affect its social norms, values, and modes of production.
Publication Date
7-1-2004
Publisher
University of Chicago Press
Citation Information
Gary Oates, Carmi Schooler and Mesfin Samuel Mulatu. "Occupational Self-Direction, Intellectual Functioning, and Self-Directed Orientation in Older Workers: Findings and Implications for Individuals and Societies"
American Journal of Sociology
Vol. 110 Iss. 1 (2004) p. 161 - 197
Available at: http://works.bepress.com/gary_oates/1/