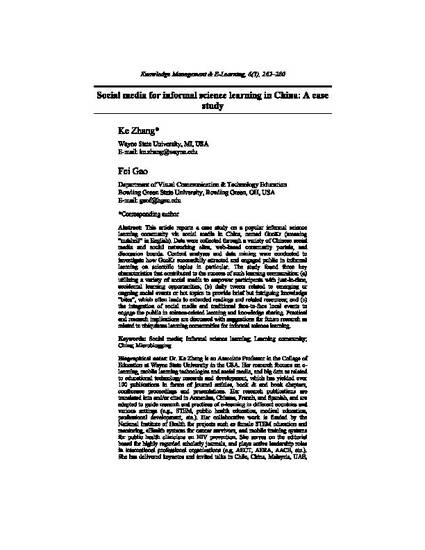 Article
Social Media for Informal Science Learning in China: A Case Study
Knowledge Management & E-Learning
Abstract
This article reports a case study on a popular informal science learning community via social media in China, named GuoKr (meaning "nutshell" in English). Data were collected through a variety of Chinese social media and social networking sites, web-based community portals, and discussion boards. Content analyses and data mining were conducted to investigate how GuoKr successfully attracted and engaged public in informal learning on scientific topics in particular. The study found three key characteristics that contributed to the success of such learning communities: (a) utilizing a variety of social media to empower participants with just-in-time, accidental learning opportunities; (b) daily tweets related to emerging or ongoing social events or hot topics to provide brief but intriguing knowledge "bites", which often leads to extended readings and related resources; and (c) the integration of social media and traditional face-to-face local events to engage the public in science-related learning and knowledge sharing. Practical and research implications are discussed with suggestions for future research as related to ubiquitous learning communities for informal science learning.
Publication Date
1-1-2014
Publisher
University of Hong Kong
Citation Information
Ke Zhang and Fei Gao. "Social Media for Informal Science Learning in China: A Case Study"
Knowledge Management & E-Learning
(2014) p. 262 - 280
Available at: http://works.bepress.com/gaof/21/