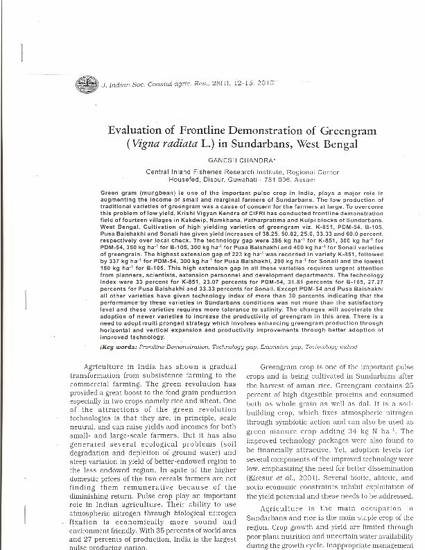 Article
Evaluation of Frontline Demonstration of Greengram (Vigna radiata L.) in Sundarbans, West Bengal
Journal of the Indian Society of Coastal Agricultural Research (2010)
Abstract
Green gram (mungbean) is one of the important pulse crop in India, which plays a major role in augmenting the income of small and marginal farmers of Sundarban. The prevalent farming situation in Sundarban areas being characterised by kharif season with paddy cultivation in rain-fed condition and water requirement for growing rabi and summer crops are met only through residual soil moisture and/or stored rain-water. The low production of traditional varieties of greengram was a cause of concern for the farmers at large. To overcome this problem of low yield, Krishi Vigyan Kendra of CIFRI has conducted frontline demonstration field of fourteen villages in Kakdwip, Namkhana, Patharpratima and Kulpi blocks of Sundarban, West Bengal. Cultivation of high yielding varieties of greengram viz. K-851, PDM-54, B-105, Pusa Baishakhi and Sonali has given percentage increase of 38.25, 50.82, 25.0, 33.33 and 60.0 respectively over local check. The technology gap, the gap in the demonstration yield over potential yield were 396 kg/ha for K-851, 300 kg/ha for PDM-54, 350 kg/ha for B-105, 300 kg/ha for Pusa Baishakhi and 400 kg/ha for Sonali. The highest extension gap of 223 kg/ha was recorded in variety K-851, followed by 337 kg/ha for PDM-54, 300 kg/ha for Pusa Baishakhi, 200 kg/ha for Sonali and the lowest 150 kg/ha for B-105. This high extension gap in all these varieties requires urgent attention from planners, scientists, extension personnel and development departments. The technology index were 33 percent for K-851, 23.07 percents for PDM-54, 31.81 percents for B-105, 27.27 percents for Pusa Baishakhi and 33.33 percents for Sonali. Except PDM-54 and Pusa Baishakhi all other varieties have given technology index of more than 30 percents indicating that the performance by these varieties in Sundarban conditions was not more than the satisfactory level and these varieties requires more tolerance to salinity. The changes will accelerate the adoption of newer varieties to increase the productivity of greengram in this area. There is a need to adopt multi pronged strategy which involves enhancing greengram production through horizontal and vertical expansion and productivity improvements through better adoption of improved technology.
Keywords
Frontline Demonstration,
Technology gap,
Extension gap,
Technology index
Citation Information
Ganesh Chandra. "Evaluation of Frontline Demonstration of Greengram (Vigna radiata L.) in Sundarbans, West Bengal"
Journal of the Indian Society of Coastal Agricultural Research
Vol. 28 Iss. 1 (2010)
Available at: http://works.bepress.com/ganesh_chandra/2/