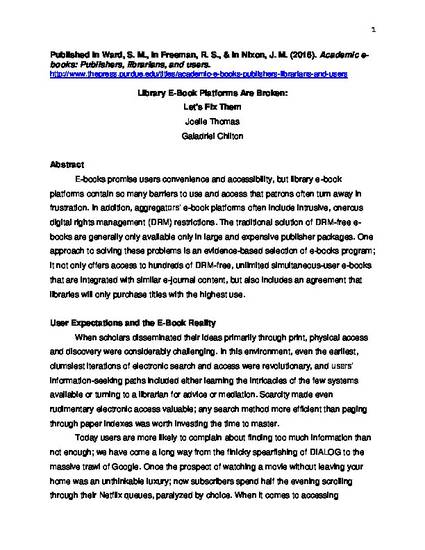 Contribution to Book
Library E-Book Platforms Are Broken: Let's Fix Them
Academic E-Books: Publishers, Librarians, and Users (2016)
Abstract
E-books promise users convenience and accessibility, but library e-book platforms contain so many barriers to use and access that patrons often turn away in frustration. In addition, aggregators' e-book platforms often include intrusive, onerous digital rights management (DRM) restrictions. The traditional solution of DRM-free e-books are generally only available only in large and expensive publisher packages. One approach to solving these problems is an evidence-based selection of e-books program; it not only offers access to hundreds of DRM-free, unlimited simultaneous-user e-books that are integrated with similar e-journal content, but also includes an agreement that libraries will only purchase titles with the highest use.
Keywords
e-books,
ebooks,
library,
libraries,
collections,
collection development,
access,
usability,
user experience
Publication Date
November, 2016
Editor
Ward, S. M., In Freeman, R. S., & In Nixon, J. M.
Publisher
Purdue University Press
Series
Charleston Insights in Library, Archival, and Information Sciences
Citation Information
Galadriel Chilton and Joelle Thomas. "Library E-Book Platforms Are Broken: Let's Fix Them" West Lafayette
Academic E-Books: Publishers, Librarians, and Users
(2016) p. 249
Available at: http://works.bepress.com/galadriel-chilton/1/