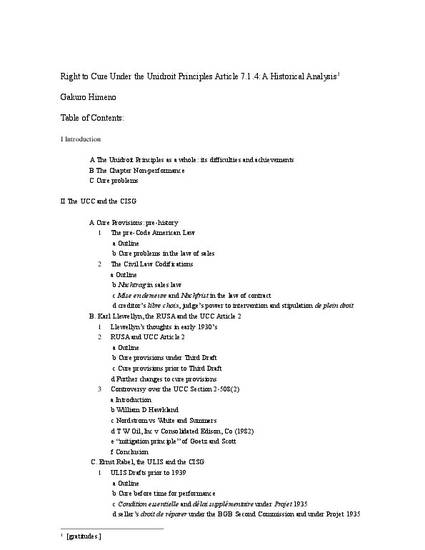 Unpublished Paper
Right to Cure Under the Unidroit Principles Article 7.1.4: A Historical Analysis
ExpressO (2015)
Abstract
Riht to cure under Unidroit 7.1.4 has three sources: a) Nachtrag, b) mise en demeure and Nachfrist and c) right to cure under Uniform Commercial Code 2-508. When the UCC Committee, Section of Business law, the ABA reviewed what will become the Unidroit Principles, they found a counterpart to their own right to cure in it: Nachfrist. Then drafting a new provision upon cure was commissioned to Richard Hyland, a US professor. While this provision, rare case where Unidroit and PECL disagrees (8. 104), has long been under criticism especially by the European drafters, met with a DCFR provision that declares it is "in a similar line."
This article seeks to put 7.1.4 and especially ULIS 44 and UCC 2-508 in a larger historical context later scholarship, with some exceptions, has ignored: socialization (and the internationalisation) of the law that ruled both sides of the Atlantic in the interwar period and echoed the international organizations until mid-1970s with such names as Wolfgang Friedmann and Rene Cassin. The relational theory justifies, in the author's view, better 2-508 (and perhaps Unidroit 7.1.4 and DCFR III - 3 203) because it shares its focus upon Emile Durkheim with the interwar droit corporatif (Genossenschaftsrecht) thinkers, including Raymond Saleilles and Edouard Lambert, and some realist theorists including Karl Llewellyn. This article however does not seek to relate directly the social dimension of the law, for example what some call protection of the contract (favor contrctus), with right to cure. Rather the author underlines that the drafters of 7.1.4 was conscious about its relationship with the binding force of the contract and ultimately with view on non-performance and on contract.
Keywords
right to terminate,
right to performance,
Karl Llewellyn,
Edouard Lambert,
Ernst Rabel,
relational contract law,
droit corporatif
Publication Date
October 25, 2015
Citation Information
Gakuro HIMENO. "Right to Cure Under the Unidroit Principles Article 7.1.4: A Historical Analysis"
ExpressO
(2015)
Available at: http://works.bepress.com/gakuro_himeno/2/