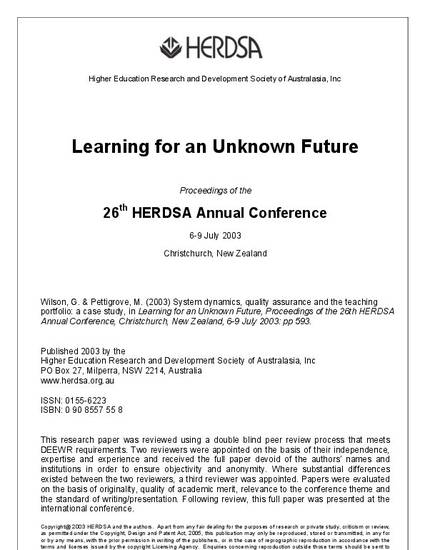 Presentation
System dynamics, quality assurance and the teaching portfolio: a case study
26th Higher Education Research and Development Society of Australasia (HERDSA) Annual Conference
Document Type
Conference publication
Publication Date
1-1-2003
Abstract
This paper describes a teaching portfolio development project conducted in Charles Sturt University, in which teaching portfolios were promoted as a basis for (a) pro-active engagement in quality enhancement at the individual and group level and (b) professional discourse on concept and attitude change relating to quality in teaching and learning among project participants. The project's thesis was 'that consistent, pro-active, system-wide involvement in quality maintenance and enhancement, and in the discourse that accompanies it, provides a base for improved organisational and divisional quality assurance'. It proposed the Teaching Portfolio as a principal means of achieving this involvement. The project was an initial attempt to discover whether the provision of generous support for the development of teaching portfolios at the individual level and at the level of the group (i.e. the teaching team, the school, the faculty) can magnify this effect such that the activities being recorded, and the records themselves, become a natural subject for public discourse across the institution.
Citation Information
Wilson, G & Pettigrove, M 2003, 'System dynamics, quality assurance and the teaching portfolio: a case study', in C Bond and P Bright (eds), Learning for an Unknown Future, Proceedings of the 26th Higher Education Research and Development Society of Australasia (HERDSA) Annual Conference, Christchurch, New Zealand, 6-9 July, HERDSA, Milperra, NSW, pp. 593-601.
Published version available from:
http://www.herdsa.org.au/?page_id=174
Copyright © Gail Wilson, Malcolm Pettigrove & HERDSA, 2003.