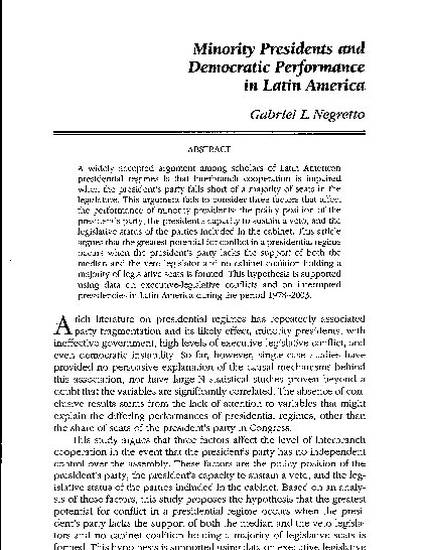 Article
"Minority Presidents and Democratic Performance in Latin America"
Latin American Politics and Society (2006)
Abstract
A widely accepted argument among scholars of presidential regimes in Latin America is that inter-branch cooperation is impaired when the president's party falls short of a majority of seats in the legislature. This argument fails to take into account three factors that should have an effect on executive-legislative relations in the event that the president's party has no independent control over the assembly: the location of the president's party in the policy space, the capacity of the president to sustain a veto, and the legislative status of the parties included in the cabinet. I propose the hypothesis that the greatest potential for conflict in a presidential regime occurs when the president's party lacks the support of both the median and the veto legislator and no cabinet coalition holding a majority of legislative seats is formed. This hypothesis is supported using data on executive-legislative conflicts and on interrupted presidencies in Latin America during the period 1978–2003.
Keywords
Presidential Regime,
Democratic Performance,
Minority Presidents
Publication Date
Fall 2006
Citation Information
Gabriel L. Negretto. ""Minority Presidents and Democratic Performance in Latin America""
Latin American Politics and Society
Vol. 48 Iss. 3 (2006)
Available at: http://works.bepress.com/gabriel_negretto/11/