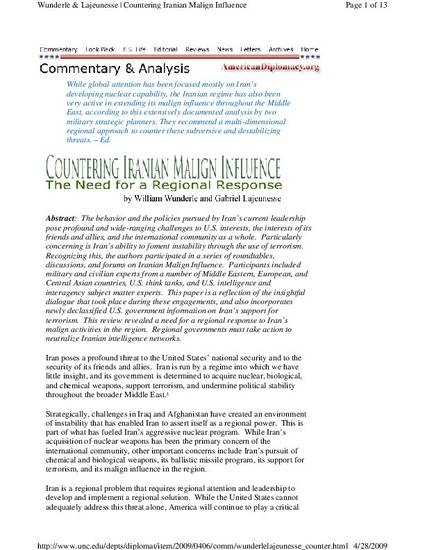 Article
Countering Iranian Malign Influence: The Need for a Regional Response
American Diplomacy (2009)
Abstract
Abstract: The behavior and the policies pursued by Iran ' s current leadership pose profound and wide-ranging challenges to U.S. interests, the interests of its friends and allies, and the international community as a whole. Particularly concerning is Iran ' s ability to foment instability through the use of terrorism. Recognizing this, the authors participated in a series of roundtables, discussions, and forums on Iranian Malign Influence. Participants included military and civilian experts from a number of Middle Eastern, European, and Central Asian countries, U.S. think tanks, and U.S. intelligence and interagency subject matter experts. This paper is a reflection of the insightful dialogue that took place during these engagements, and also incorporates newly declassified U.S. government information on Iran ' s support for terrorism. This review revealed a need for a regional response to Iran ' s malign activities in the region. Regional governments must take action to neutralize Iranian intelligence networks.
Publication Date
April 28, 2009
Citation Information
Gabriel C. Lajeunesse and William Wunderle. "Countering Iranian Malign Influence: The Need for a Regional Response"
American Diplomacy
(2009)
Available at: http://works.bepress.com/gabriel_lajeunesse/15/