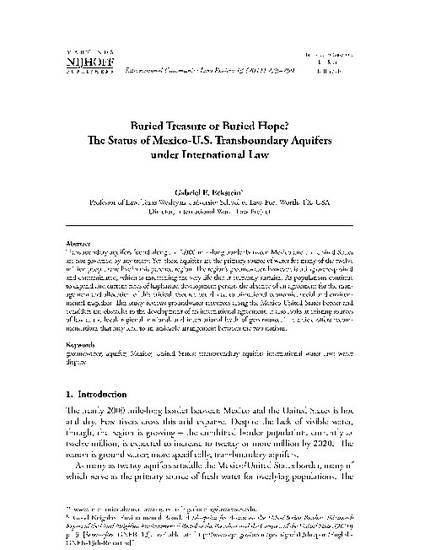 Article
Buried Treasure or Buried Hope? The Status of Mexico-U.S. Transboundary Aquifers under International Law
International Community Law Review
DOI
10.1163/187197311X582395
Abstract
Transboundary aquifers found along the 2,000 mile-long border between Mexico and the United States are not governed by any treaty. Yet, these aquifers are the primary source of water for many of the twelve million people who live in this parched region. The region's groundwater, however, is being over-exploited and contaminated, which is threatening the very life that it currently sustains. As populations continue to expand and current rates of haphazard development persist, the absence of an agreement for the management and allocation of this critical resource could lead to bi-national economic, social and environmental tragedies. This study reviews groundwater resources along the Mexico-United States border and considers the obstacles to the development of an international agreement. It also looks at existing sources of law at the local, regional, national, and international levels of governance. The article offers recommendations that may lead to an amicable arrangement between the two nations.
Citation Information
Gabriel E. Eckstein. "Buried Treasure or Buried Hope? The Status of Mexico-U.S. Transboundary Aquifers under International Law"
International Community Law Review
Vol. 13 (2011) p. 273 - 290
Available at: http://works.bepress.com/gabriel_eckstein/33/