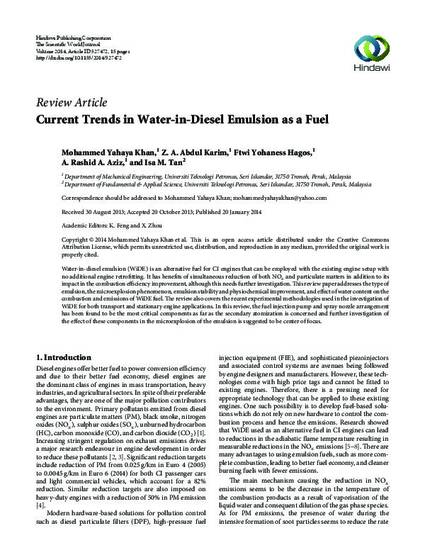 Article
Current Trends in Water-in-Diesel Emulsion as a Fuel
THE SCIENTIFIC WORLD JOURNAL (2014)
Abstract
Water-in-diesel emulsion (WiDE) is an alternative fuel for CI engines that can be employed with the existing engine setup with no additional engine retrofitting. It has benefits of simultaneous reduction of both NO x and particulate matters in addition to its impact in the combustion efficiency improvement, although this needs further investigation. This review paper addresses the type of emulsion, the microexplosion phenomenon, emulsion stability and physiochemical improvement, and effect of water content on the combustion and emissions of WiDE fuel. The review also covers the recent experimental methodologies used in the investigation of WiDE for both transport and stationary engine applications. In this review, the fuel injection pump and spray nozzle arrangement has been found to be the most critical components as far as the secondary atomization is concerned and further investigation of the effect of these components in the microexplosion of the emulsion is suggested to be center of focus.
Publication Date
January, 2014
Citation Information
Mohammed Yahaya khan, Zainal Ambri Abdul Karim, Ftwi Yohaness Hagos, Isa Mohd Tan, et al.. "Current Trends in Water-in-Diesel Emulsion as a Fuel"
THE SCIENTIFIC WORLD JOURNAL
Vol. 527472 (2014)
Available at: http://works.bepress.com/ftwi_hagos/10/