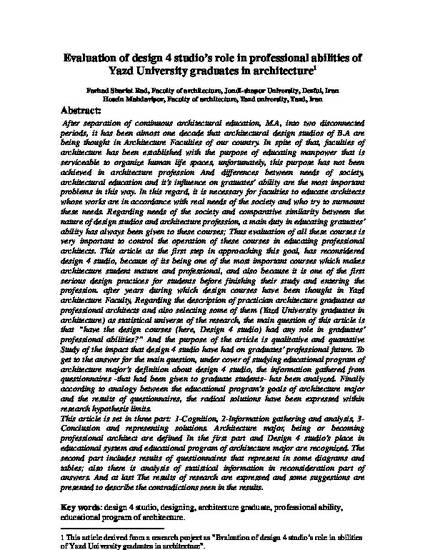 Article
EVALUATION OF DESIGN 4 STUDIO'S ROLE IN PROFESSIONAL ABILITIES OF YAZD UNIVERSITY GRADUATES IN ARCHITECTURE
HONAR-HA-YE-ZIBA (2009)
Abstract
After separation of continuous architectural education, M.A, into two disconnected periods, it has been almost one decade that architectural design studios of B.A are being thought in Architecture Faculties of our country. In spite of that, faculties of architecture has been established with the purpose of educating manpower that is serviceable to organize human life spaces, unfortunately, this purpose has not been achieved in architecture profession And differences between needs of society, architectural education and its influence on gratuates' ability are the most important problems in this way. In this regard, it is necessary for faculties to ...
Keywords
DESIGN 4 STUDIO,
DESIGNING,
ARCHITECTURE GRADUATE,
PROFESSIONAL ABILITY,
EDUCATIONAL PROGRAM OF ARCHITECTURE
Publication Date
Winter 2009
Citation Information
Shariatrad, Farhad. & Mahdavipur, H. "EVALUATION OF DESIGN 4 STUDIO'S ROLE IN PROFESSIONAL ABILITIES OF YAZD UNIVERSITY GRADUATES IN ARCHITECTURE" HONAR-HA-YE-ZIBA 36 (2009): 49-57.