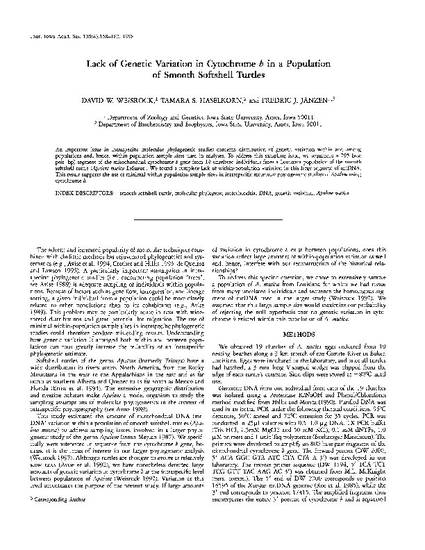 Article
Lack of Genetic Variation in Cytochrome bin a Population of Smooth Softshell Turtles
Journal of the Iowa Academy of Science
Keywords
smooth softshell turtle,
molecular phylogeny,
mitochondrial DNA,
genetic variation,
Apalone mutica
Abstract
An important issue in intraspecific molecular phylogenetic studies concerns distribution of genetic variation within and among populations and, hence, within-population sample sizes used in analyses. To address this sampling issue, we sequenced a 795 base pair (bp) segment of the mitochondrial cytochrome b gene from 19 unrelated individuals from a Louisiana population of the smooth softshell turtle (Apalone mutica LeSueur). We found a complete lack of within-population variation in this large segment of mtDNA. This result supports the use of minimal within-population sample sizes in intraspecific molecular phylogenetic studies of Apalone using cytochrome b.
Original Publication Date
1-1-1998
Publication Date
December 1998
Copyright
© Copyright 1998 by the Iowa Academy of Science, Inc.
File Format
application/pdf
Citation Information
David W. Weisrock, Tamara S. Haselkorn and Fredric J. Janzen. "Lack of Genetic Variation in Cytochrome bin a Population of Smooth Softshell Turtles"
Journal of the Iowa Academy of Science
Vol. 105 Iss. 4 (1998) p. 158 - 160
Available at: http://works.bepress.com/fredric-janzen/55/