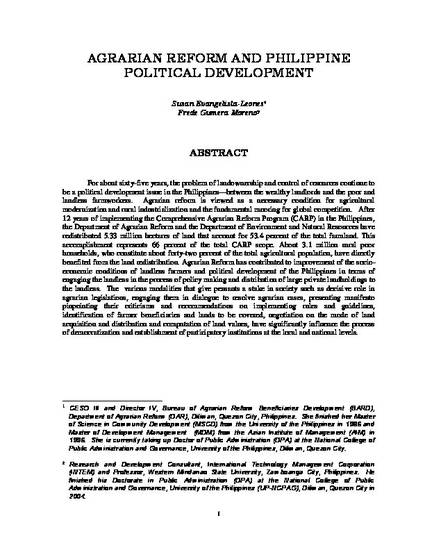 Article
Agrarian Reform and Philippine Political Development
POLITICAL BEHAVIOR: RACE, ETHNICITY & IDENTITY POLITICS eJOURNAL (2012)
Abstract
Landownership problem and control of resources remains as a political development issue in the Philippines. Agrarian reform is a necessary condition for agricultural modernization and rural industrialization and the fundamental mooring for global competition. Agrarian Reform has contributed to improvement of the socio-economic conditions of landless farmers and political development of the Philippines in terms of engaging the landless in the process of policy making and distribution of large private landholdings to the landless. Modalities giving peasants a stake in society such as decisive role in agrarian legislations, engaging them in dialogue to resolve agrarian cases, presenting manifesto pinpointing their criticisms and recommendations on implementing rules and guidelines, identification of farmer beneficiaries and lands to be covered, negotiation on the mode of land acquisition and distribution and computation of land values, have significantly influence the process of democratization and establishment of participatory institutions at the local and national levels.
Keywords
agrarian reform,
land,
politics,
development,
rural development,
ARBs,
wealth distribution,
Philippines
Publication Date
January 20, 2012
Citation Information
Frede G Moreno and Susana Evangelista Leones. "Agrarian Reform and Philippine Political Development"
POLITICAL BEHAVIOR: RACE, ETHNICITY & IDENTITY POLITICS eJOURNAL
Vol. 6 Iss. 10 (2012)
Available at: http://works.bepress.com/frede_moreno/10/