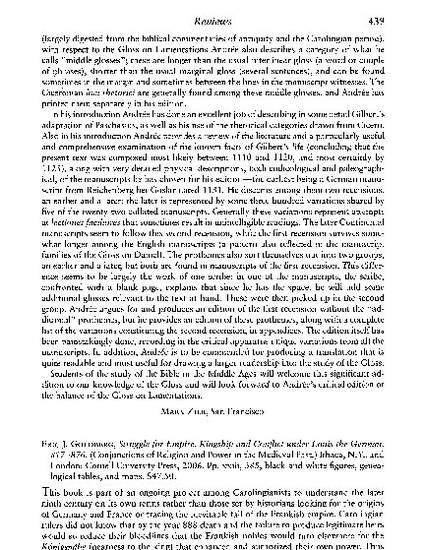 Article
(Review) Struggle for Empire: Kingship and Conflict under Louis the German, 817-76
History Faculty Publications
Document Type
Book Review
Publication Date
4-1-2007
Abstract
Reviews Eric J. Goldberg's, Struggle for Empire: Kingship and Conflict under Louis the German, 817–876. (Conjunctions of Religion and Power in the Medieval Past.) Ithaca, N.Y., and London: Cornell University Press, 2006. Pp. xxiii, 385; black-and-white figures, genealogical tables, and maps. $47.50.
Citation Information
Paxton, FS. "Struggle For Empire: Kingship And Conflict Under Louis The German, 817-876."
Speculum-A Journal Of Medieval Studies
82.2 (n.d.): 439-441. Web.