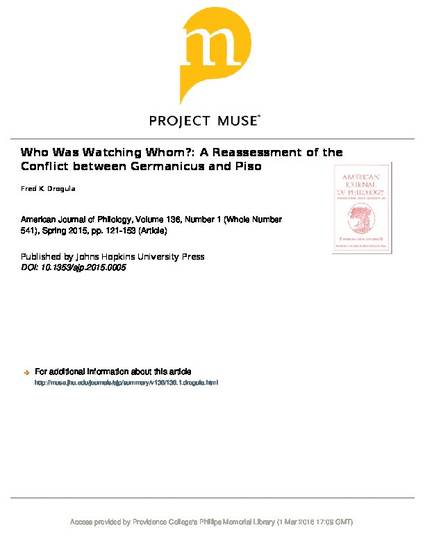 Article
Who was Watching Whom? A Reassessment of the Conflict between Germanicus and Piso
American Journal of Philology
Description
Despite Tacitus' insinuations to the contrary, Cn. Calpurnius Piso (cos. 7 b.c.e.) was no friend and loyal supporter of Emperor Tiberius. The emperor offered Piso the command of Syria in an effort to win over the political support of this prestigious-but-recalcitrant senator. As a safeguard should Piso attempt something treacherous in this powerful command, Tiberius gave Piso the province at a time when Germanicus Caesar—the emperor's loyal adopted son and heir—would be in the East resolving a number of economic problems in the eastern provinces. Thus Piso was not sent to watch the prince, but to be watched by him.
Publisher
Johns Hopkins University Press
Publication Date
4-1-2015
Citation Information
Fred K. Drogula. "Who was Watching Whom? A Reassessment of the Conflict between Germanicus and Piso"
American Journal of Philology
Vol. 136 Iss. 1 (2015) p. 121 - 153 ISSN: 1086-3168
Available at: http://works.bepress.com/fred-drogula/12/