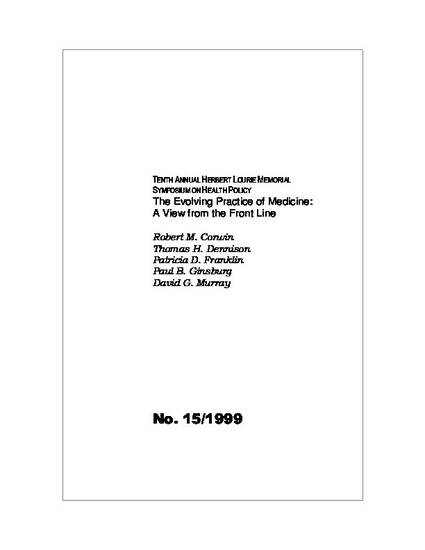 Article
The Local Perspective: Health Care Delivery in Syracuse, NY
Orthopedics and Physical Rehabilitation Publications and Presentations
UMMS Affiliation
Department of Orthopedics and Physical Rehabilitation
Publication Date
1-1-1999
Document Type
Book Chapter
Subjects
Delivery of Health Care; New York
Abstract
The traditional health care quality framework of structure, process, and outcome offers a perspective that we can use to look at the changes in the health system in Syracuse.
Source
In
The Evolving Practice of Medicine: A View from the Front Line
by Corwin RM et al. Tenth Annual Herbert Lourie Memorial Symposium on Health Policy. Center for Policy Research Briefs, no. 15/1999. Dr. Franklin's contribution begins on page 18.
Online book in full text
Citation Information
Patricia D. Franklin. "The Local Perspective: Health Care Delivery in Syracuse, NY" (1999)
Available at: http://works.bepress.com/franklinp/20/