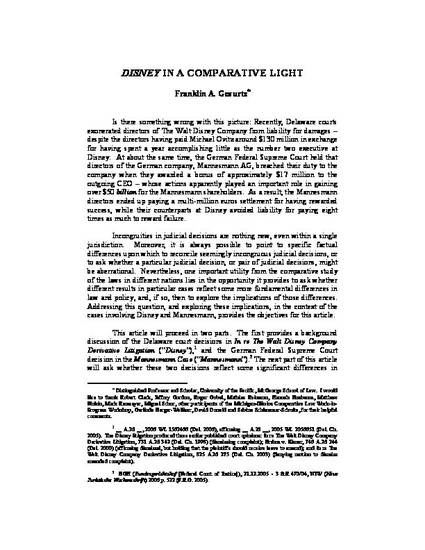 Unpublished Paper
Disney in a Comparative Light
ExpressO (2007)
Abstract
This paper uses a comparison of the recent Delaware Supreme Court decision in the Disney litigation and the recent German Federal Supreme Court decision in the Mannesmann case as a launching point to explore six important differences between Delaware and German corporate law. In Disney, the Delaware courts exonerated directors of The Walt Disney Company from liability for damages – despite the directors having paid Michael Ovitz around $130 million in exchange for having spent a year accomplishing little as the number two executive at Disney. By contrast, in Mannesmann, the German Federal Supreme Court held that directors of the German company, Mannesmann AG, criminally breached their duty to the company when they awarded a bonus of approximately $17 million to the outgoing CEO – whose actions apparently played an important role in gaining over $50 billion for the Mannesmann shareholders. This contrast illustrates the different degree to which Delaware and German courts defer to the business judgment of corporate directors; specifically, German courts seem more willing to second guess directors than are Delaware courts. Compounding this difference, German law is more suspicious of the ability of so-called disinterested directors to protect the corporation in dealing with other directors than is Delaware law. A difference in the composition of the Disney and Mannesmann boards arose out of the German law that mandates employee representation on the board (so-called co-determination). The facts of the Mannesmann case provide an opportunity to address the impact of employee representation when it comes to board decisions dealing with executive compensation. More broadly, comparing Mannesmann with Disney illustrates very different legal and societal attitudes toward compensation of senior executives in Germany versus the United States. These cases also demonstrate the far lesser ability of shareholders to waive fiduciary obligations under German law than under Delaware law. Finally, the fact that Mannesmann was a criminal prosecution, while Disney was a shareholder derivative action, illustrates the potential unintended impact of various procedural rules that make shareholder suits less viable in Germany than in Delaware.
Publication Date
February, 2007
Citation Information
Franklin A. Gevurtz. "Disney in a Comparative Light"
ExpressO
(2007)
Available at: http://works.bepress.com/franklin_gevurtz/1/