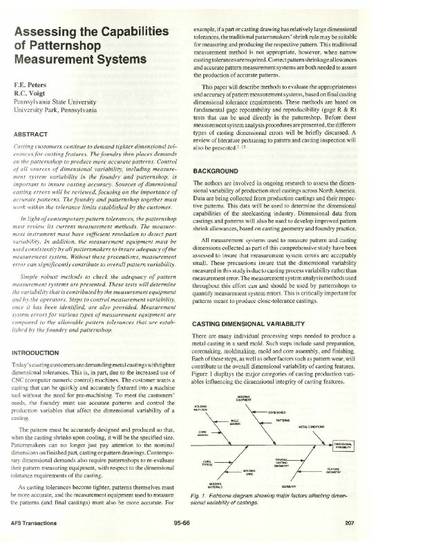 Article
Assessing the Capabilities of Patternshop Measurement Systems
AFS Transactions (1995)
Abstract
Casting customers continue to demand tighter dimensional tolerances for casting features. The foundry then places demands on the patternshop to produce more accurate patterns. Control of all sources of dimensional variability, including measurement system variability in the foundry and pattershop, is important to insure casting accuracy. Sources of dimensional casting errors will be reviewed, focusing on the importance of accurate patterns. The foundry and patternshop together must work with the tolerance limits established by the customer.
In light of contemporary pattern tolerances, the patternshop must review its current methods. The measurement instrument must have sufficient resolution to detect part variability. In addition, the measurement equipment must be used consistently by all patternmakers to insure adequacy of the measurement system. Without these precautions, measurement error can significantly contribute to overall pattern variability.
Simple robust methods to check the adequacy of pattern measurement systems are presented. These tests will determine the variability that is contributed by the measurement equipment and by the operators. Steps to control measurement variability, once it has been identified, are also provided. Measurement system errors for various types of measurement equipment are compared to the allowable pattern tolerances that are established by the foundry and patternshop.
Citation Information
Frank E. Peters and R.C. Voigt. "Assessing the Capabilities of Patternshop Measurement Systems"
AFS Transactions
Vol. 103 (1995) p. 207 - 213
Available at: http://works.bepress.com/frank_peters/17/