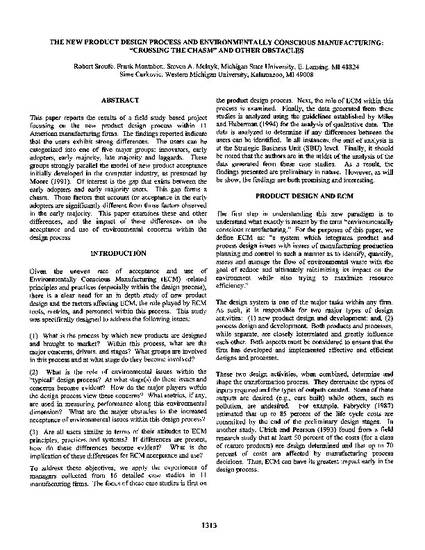 Presentation
The New Product Design Process and Environmentally Conscious Manufacturing: "Crossing the Chasm" and Other Obstacles
Decision Sciences Institute 1998 Annual Meeting (1998)
Abstract
This paper reports the results of a field study based project focusing on the new product design process within 11 American manufacturing fins. The findings reported indicate that the users exhibit strong differences. The users can be categorized into one of five major groups: innovators, early adopters, early majority, late majority and laggards. These groups strongly parallel the model of new product acceptance initially developed in the computer industry, as presented by Moore (1991). Of interest is the gap that exists between the early adopters and early majority users. This gap forms a chasm. Those factors that account for acceptance in the early adopters are significantly different from those factors observed in the early majority. This paper examines these and other differences, and the impact of these differences on the acceptance and use of environmental concerns within the design process.
Publication Date
November, 1998
Citation Information
Robert Sroufe, Frank L. Montabon, Steven A. Melnyk and Sime Curkovic. "The New Product Design Process and Environmentally Conscious Manufacturing: "Crossing the Chasm" and Other Obstacles"
Decision Sciences Institute 1998 Annual Meeting
(1998)
Available at: http://works.bepress.com/frank_montabon/2/