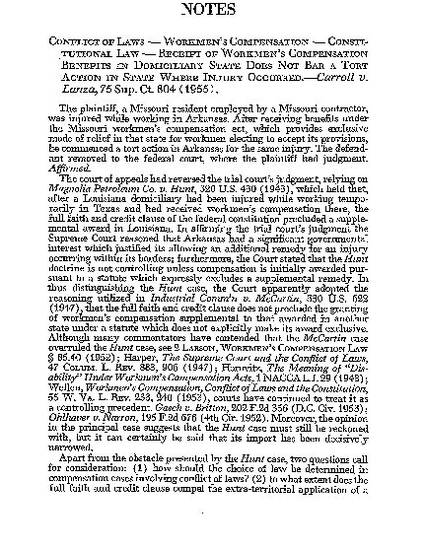 Article
Notes - Conflict of Laws-Workmen's Compensation-Constitutional Law-Receipt of Workmen's Comensation Benefits in Domiciliary State Does Not Bar a Tor Action in State Where Injury Occurred.-Carrol v. Lanza, 75 Sup. Ct. 804 (1955)
Texas Law Review
Abstract
The plaintiff sued to set aside a trustee's deed in favor of the defendant. After the case was set for trial on the jury docket, the court appointed a master in chancery. The plaintiff's objections to the appointment and to the master's report were overruled and he was not allowed to submit any evidence to the court, which adopted the master's findings. Held, reversed and remanded; the court is authorized to appoint a master only in exceptional cases and for good cause, and if the plaintiff objects to the report, he is entitled to a jury trial on the disputed issues.
Citation Information
Frank W. Elliott. "Notes - Conflict of Laws-Workmen's Compensation-Constitutional Law-Receipt of Workmen's Comensation Benefits in Domiciliary State Does Not Bar a Tor Action in State Where Injury Occurred.-Carrol v. Lanza, 75 Sup. Ct. 804 (1955)"
Texas Law Review
Vol. 34 (1955) p. 326
Available at: http://works.bepress.com/frank_elliott/24/