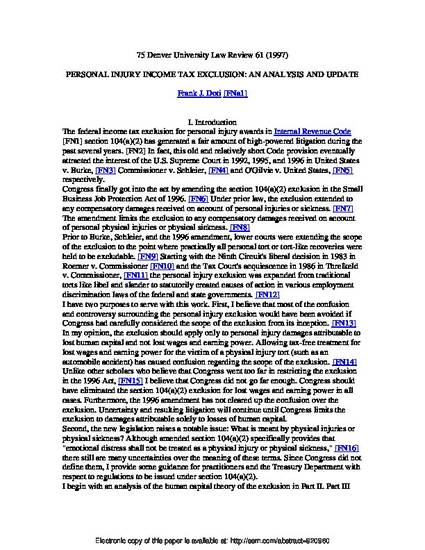 Article
Personal Injury Income Tax Exclusion: An Analysis and Update
Denver University Law Review (1997)
Abstract
In the Small Business Job Protection Act of 1996 Congress decided to limit the exclusion for personal injury awards in Internal Revenue Code section 104(a)(2) to any compensatory damages received on account of personal physical injuries or physical sickness. Previously the law did not contain the word "physical." Thus, Congress intended to eliminate the benefits of the exclusion for non-physical torts such as employment discrimination and defamation. Unfortunately, neither the law nor legislative history provides sufficient explanation of the meaning of "physical." The author discusses the nature of the ambiguities and suggests that the whole purpose of the exclusion is being frustrated because Congress should have focused on what the author calls the "human capital" theory of the exclusion. As a result, the author suggests alternatives to the wording of the exclusion to permit non-taxability only to the extent the victim suffered a loss to his/her physical well being including emotional trauma. In the case of damages awarded for loss of earning power, they should, unlike current law, be taxed even in the case where the victim suffered a physical injury or sickness.
Citation Information
Frank J. Doti. "Personal Injury Income Tax Exclusion: An Analysis and Update"
Denver University Law Review
Vol. Vol. 75 (1997)
Available at: http://works.bepress.com/frank_doti/2/