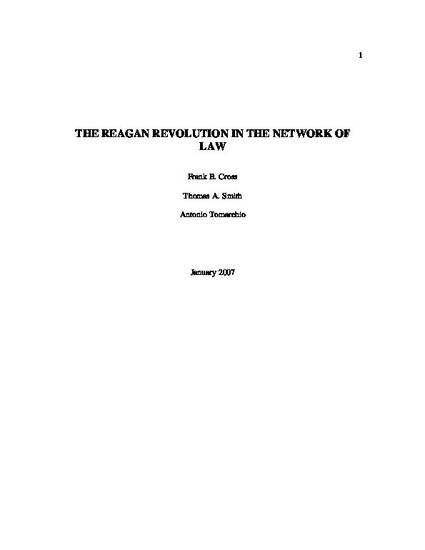 Unpublished Paper
The Reagan Revolution in the Network of Law
ExpressO (2007)
Abstract
This paper analyzes the effect of the Rehnquist Court on Supreme Court precedent, using a network of all Court citations to other Supreme Court cases. Network analysis enables a study of the Court's use of precedent that may not be readily visible from case-by-case reviews. We find that the Rehnquist Court has made a dramatic alteration in the network of precedent and, in the process, set the stage for a potentially revolutionary change in the makeup of the law. This may be very much the effect contemplated by the Reagan Administration in its effort to remake the composition of the Court.
Publication Date
August, 2007
Citation Information
Frank B Cross. "The Reagan Revolution in the Network of Law"
ExpressO
(2007)
Available at: http://works.bepress.com/frank_cross/2/