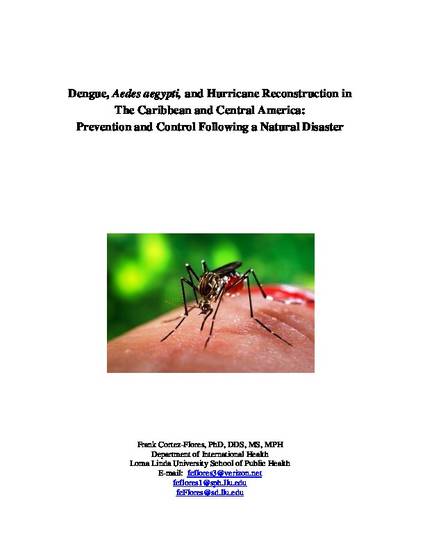 Unpublished Paper
Dengue, Aedes aegypti, and Hurricane Reconstruction in The Caribbean and Central America: Prevention and Control Following a Natural Disaster
(2003)
Abstract
Abstract: Dengue is currently the most important vector-borne viral disease affecting people, in terms of both morbidity and mortality. Repeated epidemics of dengue and dengue hemorrhagic fever afflicting millions of individuals occur annually in tropical and subtropical areas of the world, including The Caribbean and Central America, inhabited by the Aedes aegypti mosquito.
Accordingly, the main purpose of this study was to identify and address the dominating factors influencing the resurgence of dengue fever following a natural disaster such as a hurricane.
This study also depicted an arguable approach to dengue surveillance as well as described existing efforts to prevent, control and eradicate dengue (Aedes aegypti) with the aim of detailing potential problems that must be addressed to prevent further dengue fever outbreaks.
Virologic surveillance should be consider the most important element in any such early warning system Dengue virus transmission should be monitored to determine which serotypes are present, their distribution, and the type of illnesses associated with each.
Effective dengue surveillance can provide an early warning capability permitting emergency mosquito control measures to be implemented and major epidemics to be averted.
Dengue prevention and control programs must be in line with more effective surveillance as an early warning system that can predict epidemic dengue, and combining this with mosquito control measures - including community-based measures - to reduce Aedes aegypti densities.
An effective dengue surveillance system must address the disease from both a clinical and an entomological perspective as well as consider the virologic, epidemiologic, and serologic aspects.
Learning Objectives: Upon completion of this presentation, the learner should be able to:
(1) Examine and explain the growing significance of disaster mitigation and strengthening regional surveillance networks for dengue and dengue hemorrhagic fever following a natural disaster (e.g., hurricane).
(2) Define how to strengthen the regional capacity for effective implementation of prevention and control strategies for disaster mitigation.
(3) Emphasizes the practical application of field research in the management and control of the dengue vector, Aedes aegypti, following a natural disaster as well as promoting the further development of applied research in the areas of rapid diagnosis, epidemiology, and prevention.
(4) Describe an interdisciplinary team approach to achieving success with prevention and control programs. Emphasizing national and regional infrastructures for early warning of and rapid response to infectious disease threats, following natural disasters, through laboratory enhancement.
Keywords
Dengue,
Aedes aegypti,
Hurricane Reconstruction,
The Caribbean,
Central America,
Prevention and Control,
Natural Disaster
Citation Information
Frank Cortez Flores. "Dengue, Aedes aegypti, and Hurricane Reconstruction in The Caribbean and Central America: Prevention and Control Following a Natural Disaster" (2003)
Available at: http://works.bepress.com/frank_cortezflores/6/