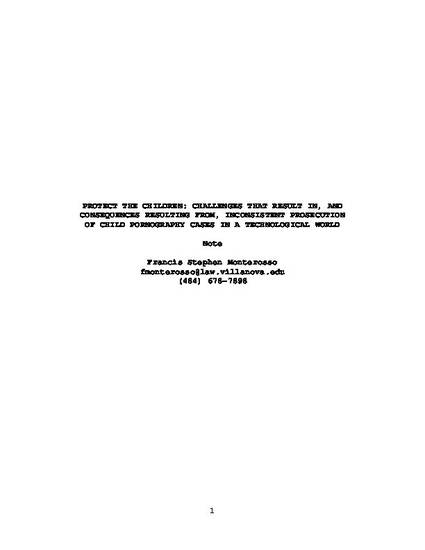 Unpublished Paper
PROTECT THE CHILDREN: CHALLENGES THAT RESULT IN, AND CONSEQUENCES RESULTING FROM, INCONSISTENT PROSECUTION OF CHILD PORNOGRAPHY CASES IN A TECHNOLOGICAL WORLD
ExpressO (2009)
Abstract
This Note untangles courts' problems with the prosecution of child pornography defendants and aims to redirect attention to the social impact associated with these crimes. First, Part I provides an introduction to the Note and discusses the background of the Child Pornography Prevention Act. Secondly, Part II sets forth the evolution of the CPPA and its goals and shortcomings. Next, Part III further explains the development of child pornography prosecutions in the United States through two cases that illustrate the government's desire to prosecute child pornography defendants.
Moreover, Part IV explains the difficulties courts have encountered in the prosecution of child pornography cases due to questions arising out of the possession element of child pornography statutes, and from the frequently invoked Trojan Horse Defense. This section clarifies problems that courts will continue to face regardless of the recent amendments to the CPPA and challenges that courts should understand. Further, Part V discusses the tremendous impact that child pornography has on society, and demonstrates that inconsistent prosecutions of child pornography cases only furthers this negative social impact. Part V also explains how Congress enumerated many reasons for enacting the CPPA and intended for the Act to be used to decrease and eliminate the dissemination of child pornography in America. Finally, Part VI offers a conclusion affirming the struggles that courts face when prosecuting child pornography defendants and the necessity for courts to consider Congress's intent through the enactment of the CPPA and similar laws.
Keywords
children,
technology,
computer,
internet,
criminal,
social,
welfare,
pornography,
child pornography,
protection,
technology
Publication Date
November 9, 2009
Citation Information
Francis S. Monterosso, Note:
Protecting the Children: Challenges that Result In, and Consequences Resulting From, Inconsistent Prosecution of Child Pornography Cases in a Technical World
, XVI Rich. J.L. & Tech. 11 (2010), http://jolt.richmond.edu/v16i3/article11.pdf.