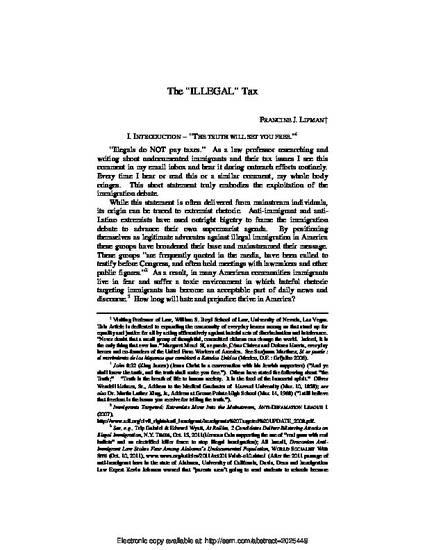 Article
The "Illegal Tax"
Connecticut Public Interest Law Journal (2011)
Abstract
Almost fifty years ago in 1965, on the steps of the State Capital in Montgomery, Alabama, Dr. Martin Luther King, Jr., asked a crowd of twenty-five thousand "How long will prejudice blind the visions of men, darken their understanding, and drive bright-eyed wisdom from her sacred throne?" The crowd, celebrating the completion of the five-day, twenty-five mile march from Selma to Montgomery and their First Amendment rights encouraged Dr. King to "speak, speak." And he did answering his own question with poetry, faith, and optimism, "How long? Not long, because the arc of the moral universe is long, but it bends toward justice." Following the many lessons of Dr. King's passive resistance legacy, this essay debunks the myth that "illegals do not pay taxes" and demonstrates with facts, data, and law, that undocumented immigrants not only pay billions of dollars in taxes every year, but given their demographic profile are likely to pay taxes at a higher effective tax rate than similarly situated U.S. citizens and other authorized workers.
Keywords
tax policy,
undocumented immigrants,
unauthorized workers,
EiTC,
working poor,
Making Work Pay Credit,
immigration reform,
social security
Citation Information
Francine J. Lipman. "The "Illegal Tax""
Connecticut Public Interest Law Journal
Vol. 11 (2011)
Available at: http://works.bepress.com/francine_lipman/32/