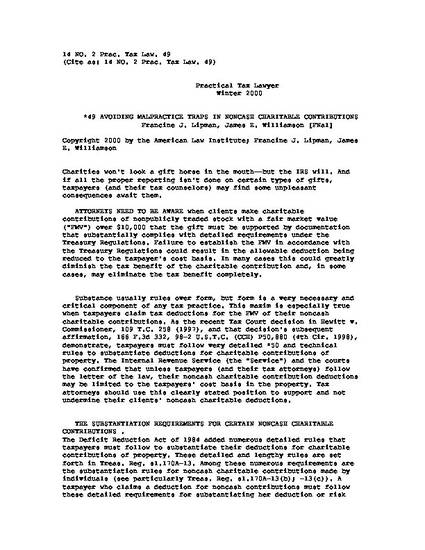 Article
Avoiding Malpractice Traps in Noncash Charitable Contributions
Practical Tax Lawyer (2000)
Abstract
Substance usually rules over form, but form is a very necessary and critical component of any tax practice. This maxim is especially true when taxpayers claim tax deductions for the FMV of their noncash charitable contributions. As the recent Tax Court decision in Hewitt v. Commissioner, 109 T.C. 258 (1997), and that decision's subsequent affirmation, 166 F.3d 332, 98-2 U.S.T.C. (CCH) P50,880 (4th Cir. 1998), demonstrate, taxpayers must follow very detailed and technical rules to substantiate deductions for charitable contributions of property. The Internal Revenue Service and the courts have confirmed that unless taxpayers (and their tax attorneys) follow the letter of the law, their noncash charitable contribution deductions may be limited to the taxpayers' cost basis in the property. Tax attorneys should use this clearly stated position to support and not undermine their clients' noncash charitable deductions.
Keywords
donations,
tax policy,
charitable contributions,
itemized deductions,
substantiation rules
Publication Date
Winter 2000
Citation Information
Francine J. Lipman. "Avoiding Malpractice Traps in Noncash Charitable Contributions"
Practical Tax Lawyer
Vol. Vol. 14 Iss. No. 2 (2000)
Available at: http://works.bepress.com/francine_lipman/23/