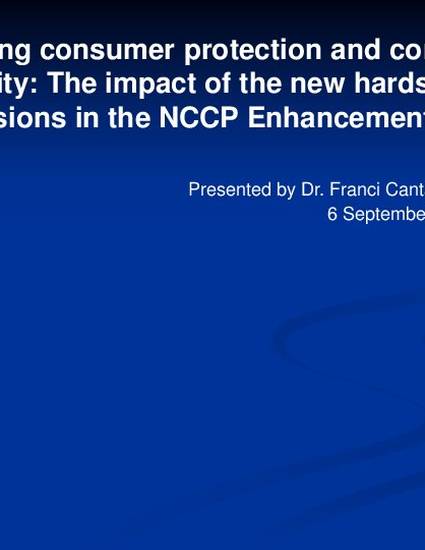 Presentation
Balancing consumer protection and commercial viability: The impact of the new hardship provisions in the NCCP Enhancements Act
Min-It Software Credit Industry Conference
Date of this Version
9-6-2012
Document Type
Miscellaneous Material
Abstract
This paper considers the impact of the new Hardship Provisions in the Consumer Credit Legislation Amendment (Enhancements) Bill 2012 ("the Bill") on credit providers. It focuses on, firstly, identifying the scope of the amendments, which are distinctly consumer orientated; secondly, it examines problematic issues arising from the wording and application of the new provisions, including a discussion of refusals of and disagreements on hardship variations; and, lastly, it considers the impact of complaint fees charged by the External Dispute Resolution schemes, Financial Ombudsman Services ("FOS") and Credit Ombudsman Services ("COSL") [now Credit and Investments Ombudsman ("CIO")].
Citation Information
Francina Cantatore. "Balancing consumer protection and commercial viability: The impact of the new hardship provisions in the NCCP Enhancements Act"
Min-It Software Credit Industry Conference
(2012)
Available at: http://works.bepress.com/francina_cantatore/15/