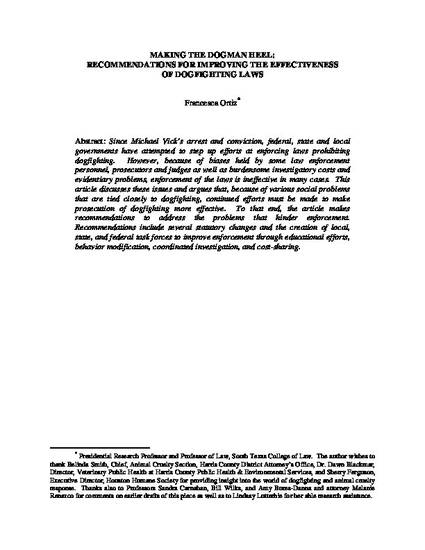 Unpublished Paper
Making the Dogman Heel: Recommendations for Improving the Effectiveness of Dogfighting Laws
ExpressO (2009)
Abstract
Since Michael Vick's arrest and conviction, federal, state and local governments have attempted to step up efforts at enforcing laws prohibiting dogfighting. However, because of biases held by some law enforcement personnel, prosecutors and judges as well as burdensome investigatory costs and evidentiary problems, enforcement of the laws is ineffective in many cases. This article discusses these issues and argues that, because of various social problems that are tied closely to dogfighting, continued efforts must be made to make prosecution of dogfighting more effective. To that end, the article makes recommendations to address the problems that hinder enforcement. Recommendations include several statutory changes and the creation of local, state, and federal task forces to improve enforcement through educational efforts, behavior modification, coordinated investigation, and cost-sharing.
Publication Date
August 17, 2009
Citation Information
Francesca Ortiz. "Making the Dogman Heel: Recommendations for Improving the Effectiveness of Dogfighting Laws"
ExpressO
(2009)
Available at: http://works.bepress.com/francesca_ortiz/1/