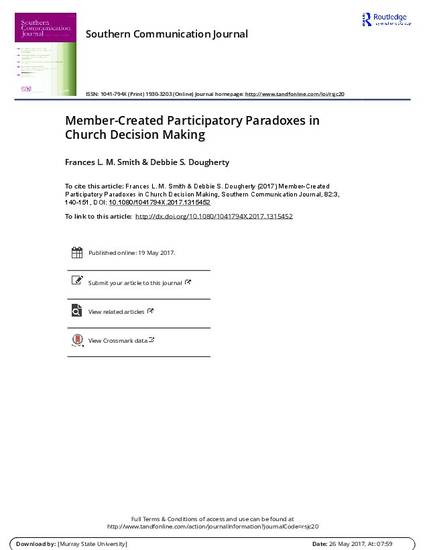 Article
Member-Created Participatory Paradoxes in Church Decision-Making
Southern Communication Journal (2017)
Abstract
Church organizations provide a unique perspective from which to study participation and paradox. While participatory paradoxes to date focus on paradoxes created by leaders for members, it is important to remember that organizing is co-constructed between leaders and members. It is, therefore, also important to study how members create paradoxes for leaders. Church organizations shed light on the embedded nature of paradoxes. The purpose of this study is to explore member-created leadership paradoxes during decision-making events in a church organization. Qualitative methods guided this research. Three member-created paradoxes were discovered: the organizing paradox, the information paradox, and the involvement paradox. Future research should study members of multiple churches to determine how paradoxes in participation exist within different organizations.
Keywords
Organizational paradox,
participation in decision making,
religious organizations
Publication Date
Spring May 19, 2017
Citation Information
Frances Smith and Debbie S. Dougherty. "Member-Created Participatory Paradoxes in Church Decision-Making"
Southern Communication Journal
(2017)
Available at: http://works.bepress.com/frances-smith/5/