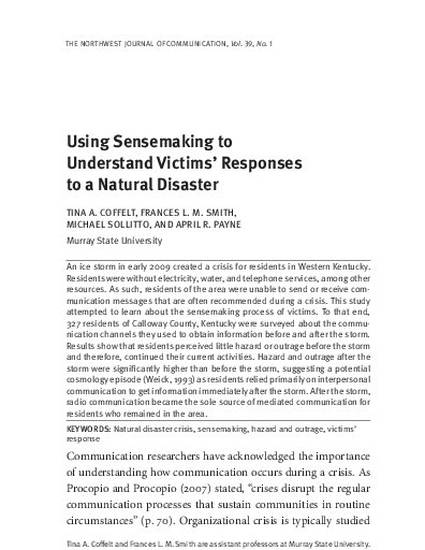 Article
Using Sensemaking to Understand Victims' Responses to a Natural Disaster
the Northwest journal of communication (2010)
Abstract
An ice storm in early 2009 created a crisis for residents in Western Kentucky.
Residents were without electricity, water, and telephone services, among other
resources. As such, residents of the area were unable to send or receive communication
messages that are often recommended during a crisis. This study
attempted to learn about the sensemaking process of victims. To that end,
327 residents of Calloway County, Kentucky were surveyed about the communication
channels they used to obtain information before and after the storm.
Results show that residents perceived little hazard or outrage before the storm
and therefore, continued their current activities. Hazard and outrage after the
storm were significantly higher than before the storm, suggesting a potential
cosmology episode (Weick, 1993) as residents relied primarily on interpersonal
communication to get information immediately after the storm. After the storm,
radio communication became the sole source of mediated communication for
residents who remained in the area.
Keywords
Natural disaster crisis,
sensemaking,
hazard and outrage,
victims' response
Citation Information
Tina Coffelt, Frances Smith, Michael Sollitto and April Rives. "Using Sensemaking to Understand Victims' Responses to a Natural Disaster"
the Northwest journal of communication
Vol. 39 Iss. 1 (2010)
Available at: http://works.bepress.com/frances-smith/3/