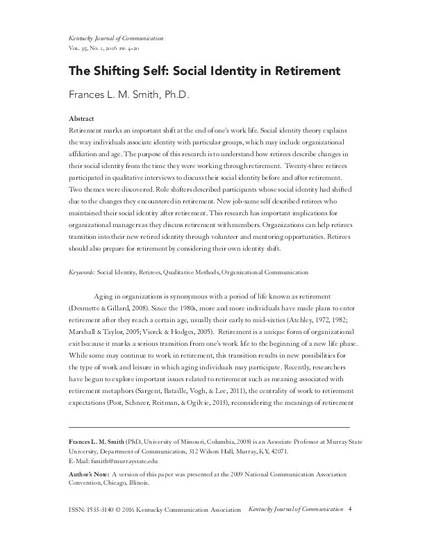 Article
The Shifting Self: Social Identity in Retirement
Kentucky Journal of Communication (2016)
Abstract
Retirement marks an important shift at the end of one's work life. Social identity theory explains
the way individuals associate identity with particular groups, which may include organizational
affiliation and age. The purpose of this research is to understand how retirees describe changes in
their social identity from the time they were working through retirement. Twenty-three retirees
participated in qualitative interviews to discuss their social identity before and after retirement.
Two themes were discovered. Role shifters described participants whose social identity had shifted
due to the changes they encountered in retirement. New job-same self described retirees who
maintained their social identity after retirement. This research has important implications for
organizational managers as they discuss retirement with members. Organizations can help retirees
transition into their new retired identity through volunteer and mentoring opportunities. Retirees
should also prepare for retirement by considering their own identity shift.
Keywords
Social Identity,
Retirees,
Qualitative Methods,
Organizational Communication
Citation Information
Frances Smith. "The Shifting Self: Social Identity in Retirement"
Kentucky Journal of Communication
Vol. 35 Iss. 1 (2016) p. 4 - 20
Available at: http://works.bepress.com/frances-smith/2/