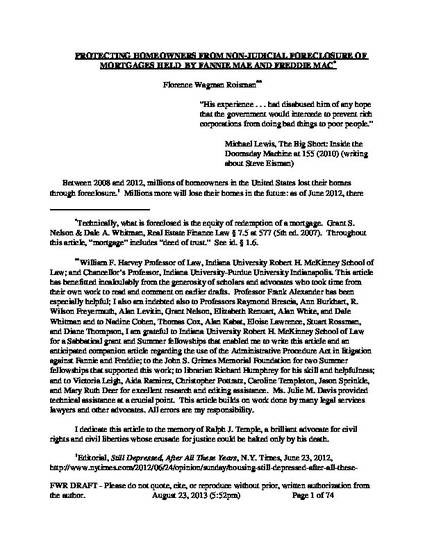 Unpublished Paper
Protecting Homeowners from Non-Judicial Foreclosure of Mortgages held by Fannie Mae and Freddie Mac
ExpressO (2013)
Abstract
Fannie Mae and Freddie Mac hold or guarantee about three-quarters of the mortgages in the U.S. Traditionally, those mortgages have been foreclosed by non-judicial foreclosure in the states (more than half the states) that allow non-judicial foreclosure. In September 2008, a federal agency, the Federal Housing Finance Agency, put Fannie and Freddie into conservatorship and took total control of both. This article asks whether, post-conservatorship, foreclosure of mortgages held by Fannie and Freddie is subject to Fifth Amendment due process constraints, which most non-judicial foreclosure statutes do not satisfy. The article concludes that such foreclosures are subject to the Fifth Amendment.
Citation Information
Florence W. Roisman. "Protecting Homeowners from Non-Judicial Foreclosure of Mortgages held by Fannie Mae and Freddie Mac"
ExpressO
(2013)
Available at: http://works.bepress.com/florence_roisman/1/