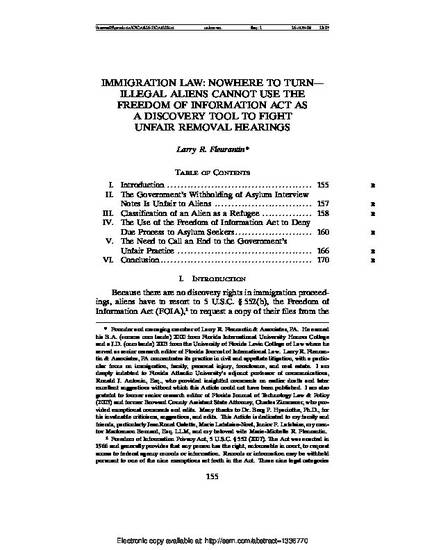 Article
Immigration Law: Nowhere to Turn—Illegal Aliens Cannot Use the Freedom of Information Act as a Discovery Tool to Fight Unfair Removal Hearings
Cardozo Journal of International and Comparative Law (2008)
Abstract
This Article challenges the authority of the Attorney General and the DHS Secretary to withhold information from an alien after a FOIA request under Exemption (b)(5), to use that same withheld information to impeach the alien's testimony during an individual hearing on the merits, and to use that as grounds for the Immigration Court to deny an applicant's request for asylum. This Article takes the position that the USCIS needs to change its unfair practice to avoid the harsh and pervasive injustice that aliens facein removal proceedings.
Keywords
FOIA,
Aliens,
Refugees,
Human Rights,
Immigration,
Larry Fleurantin
Publication Date
May, 2008
Citation Information
Larry R. Fleurantin. "Immigration Law: Nowhere to Turn—Illegal Aliens Cannot Use the Freedom of Information Act as a Discovery Tool to Fight Unfair Removal Hearings"
Cardozo Journal of International and Comparative Law
Vol. 16 Iss. 1 (2008)
Available at: http://works.bepress.com/fleurantinlaw/2/