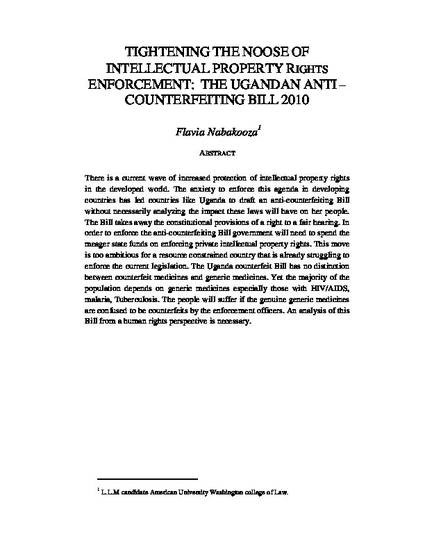 Unpublished Paper
TIGHTENING THE NOOSE OF INTELLECTUAL PROPERTY RIGHTS ENFORCEMENT: THE UGANDAN ANTI –COUNTERFEITING BILL 2010
ExpressO (2011)
Abstract
There is a current wave of increased protection of intellectual property rights in the developed world. The anxiety to enforce this agenda in developing countries has led countries like Uganda to draft an anti-counterfeiting Bill without necessarily analyzing the impact these laws will have on her people. The Bill takes away the constitutional provisions of a right to a fair hearing. In order to enforce the anti-counterfeiting Bill government will need to spend the meager state funds on enforcing private intellectual property rights. This move is too ambitious for a resource constrained country that is already struggling to enforce the current legislation. The Uganda counterfeit Bill has no distinction between counterfeit medicines and generic medicines. Yet the majority of the population depends on generic medicines especially those with HIV/AIDS, malaria, Tuberculosis. The people will suffer if the genuine generic medicines are confused to be counterfeits by the enforcement officers. An analysis of this Bill from a human rights perspective is necessary.
Publication Date
January 14, 2011
Citation Information
Flavia Nabakooza. "TIGHTENING THE NOOSE OF INTELLECTUAL PROPERTY RIGHTS ENFORCEMENT: THE UGANDAN ANTI –COUNTERFEITING BILL 2010"
ExpressO
(2011)
Available at: http://works.bepress.com/flavia_nabakooza/1/